[amazon table="2471″]
Fancy yourself a camper?
Perhaps you like going on extended hikes that really make you fall in love with the outdoors all over again.
The irony is that to go out into the world you love, you have to produce emissions by charging your phone, smart watch, LED flashlights and other outdoor essentials.
Unless you have a 100% perfect clean-burning energy provider (which none of us do), using up more of your electricity damages the environment.
We've gone ahead and provided you with a list of the five best solar power banks on the market, giving you a way to charge your small devices on the go, reduce your electric bill, and keep the fun rolling as if nothing ever changed.
You can make a difference in emissions by utilizing the unyielding solar energy pouring down every single day. Solar power banks are more powerful and useful than ever before: now's the time to get your hands on one.
Best Solar Power Bank – Reviews & Buying guide for 2020
Best overall – BALDR Portable Power Station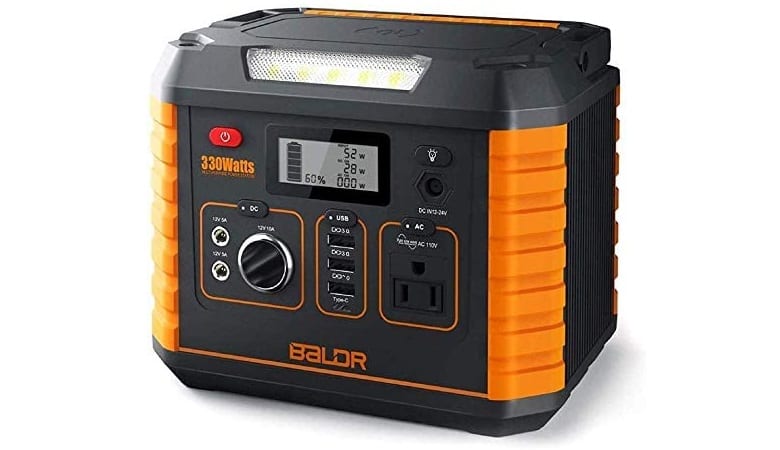 Taking the top spot on our list, BALDR just smashes through the competition. This ultra powerful electricity deposit doesn't come with its own solar panels, but it adapts to just about every solar panel manufacturer out there.
The big selling point that BALDR goes off of is that they can last for much longer than most camping batteries, effectively buying you a ton of time on your necessary machinery and devices as well.
They're the best portable solar power bank on our list, but not without flaws. First of all, the energy cap is 297wh, and while that's nothing to scoff at, this system has all the perfect features that you would find in a battery pack with twice the capacity.
We feel like they could have done more here. Overall, based on the size, it's pretty compact and lightweight, so you won't have any trouble lugging it around from your RV to the campsite, or vice versa.
With the USB-C outputs, you're able to charge a variety of devices, and with an AC output, you can use just about anything that you'd find yourself needing while roughing it in the outdoors.
From GPS devices to your smartphone, there's a way to charge it up. Next, we have to talk about charging times.
Through a QC 3.0 USB, you can charge up to 80% of this battery in a flat 30 minutes. That's good if you need it in a pinch or you only have an hour until you go on a camping trip, but it's best done with solar power.
You'll be able to fully charge this battery with about eight hours of moderately sunny weather, and a decent 100 watt panel. It's not as fast as sourcing your indoor electricity, but we're trying to be green about this.
However, if you wanted to charge it with a 200 watt panel, that's not an option. This is strictly compatible with 100 watt panels.
There's a flood light built right into the panel on the front, which can run for almost three straight days on the lowest setting, or just under one full day on the highest setting.
You can recharge an iPhone 10 about 22 times before the entire battery runs out, or a Nintendo Switch upwards of a dozen times or more.
The unit itself is great, but it's also about the purchase experience. BALDR has a 24-hour customer support helpline, as well as a 30-day money-back guarantee (no questions asked), and two years on the full warranty.
This is built tough, built to last—take it from someone who dropped it twice – so you shouldn't encounter any issues during your first few years.
Runner up – Jackery Portable Power Station Explorer 500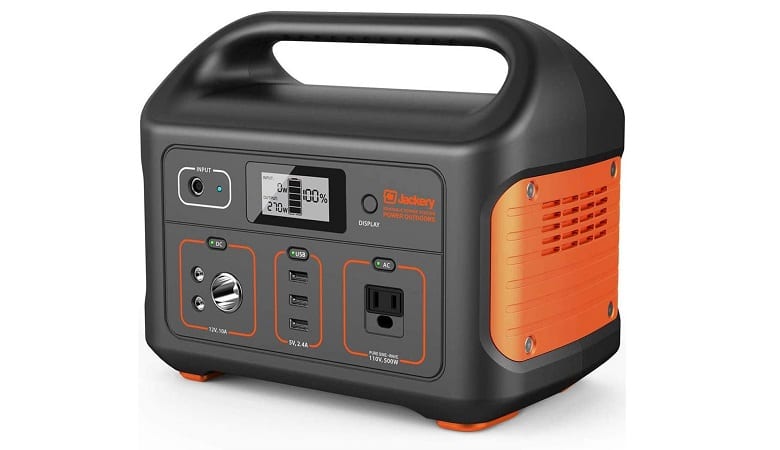 The second best solar battery pack on our list looks very similar to the first one, in terms of aesthetics, but in some departments it actually blows BALDR out of the water.
The first thing that we want you to know about this solar power bank is that it stores up to 518wh, which is a 68%+ boost over our top pick.
You have the option to run a USB connection, or an AC and DC connection if you wish, which gives major points for versatility.
Utilize the 10A carport adapter as well as the separate 5V and 2.4A slots, and you're basically ready to power anything you could find yourself needing in the great outdoors.
If you're bringing your laptop for the ride on a nice camping trip, you're not alone—everyone could use a bit of entertainment during those late hours.
Jackery's portable power station ensures you aren't straining the system, because it has a pure sine wave inverter built right in. Basically, it acts sensitive when sending power out, and prevents electrical surges that could damage your devices.
So why didn't this beat BALDR in our list?
For one, it's more expensive, but it also doesn't come with a solid warranty.
I say that because Jackery has gone back and forth between one-year and two-year warranties, so you don't actually know what warranty you're getting when you order it (even their sales page doesn't help). Is that a life-changing deal?
No, it's just nice that you get a longer warranty on a lower-priced product with BALDR.
You can use just about any 100w panel with this, but Jackery is going to try and sell you on their own line of panels. They offer a lower-priced version of this at 240wh of total capacity, and a more expensive 1002wh model as well.
Personally, this works well for just about every outdoor scenario, I just wouldn't use it in an RV.
There are fairly impressive times when it comes to running things like a TV or a blender, and you can even charge the average smartphone about fifty times over before the battery drains completely.
As a compact unit, it lifts off the ground with ease, and doesn't take up a whole lot of room when you're trying to maneuver to a campsite or set up shop on a beach towel. It's solid, but pricey, and a good contender for the BALDR power bank in most departments.
Alternative – BESWILL 21 Led Light Solar Charger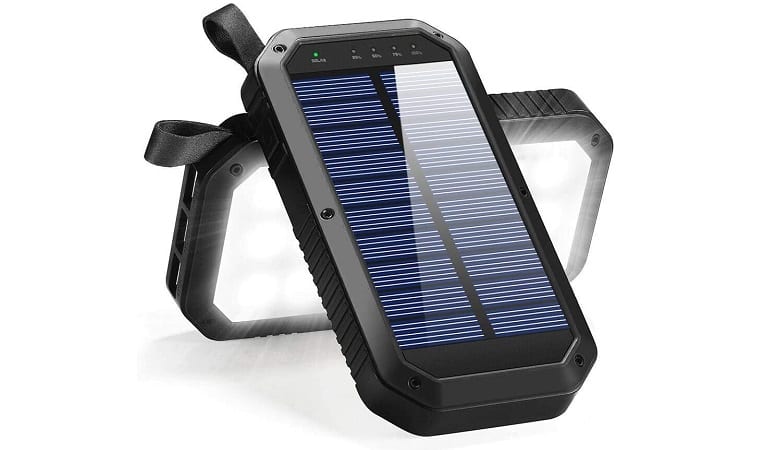 As a personal solar charger, BESWILL's little system is able to pull off some amazing things while sitting at the lowest price point on our list.
This solar powered power bank includes a 21 LED flashlight with three modes, which allow you to use it as an SOS emergency signal if need be, which is always nice to have as an option on a hike or camping trip.
This packs up to 8000mah, which isn't anything groundbreaking, but for the extremely low cost it's about what you would expect.
This works well to keep your phone charged for emergency phone calls while you're in the outdoors, and could even charge a laptop if you get the right adapters.
But how efficient is a solar panel that's less than thirty bucks?
Well, it's not the most efficient thing on the market, or on this list for example, but if you leave this facing straight up, you'll have a full charge by nightfall.
If you're going on a camping trip with multiple people, it's a good idea for everyone to have one of these for utility and keeping your phones charged.
For an inexpensive piece, it's durable as can be. I'm not saying I dropped this outside while testing it, but if I did, at least the case and glass didn't break.
Overall, this weighs 7.8 ounces, or less than half a pound, so you're not always going to know that it's there when you put it in your backpack or back pocket.
Utilize the three USB ports to fast charge multiple devices, like a GPS watch or high lumen torch, and never worry about running out of power again.
alternative – Hiluckey Solar Charging Portable Power Bank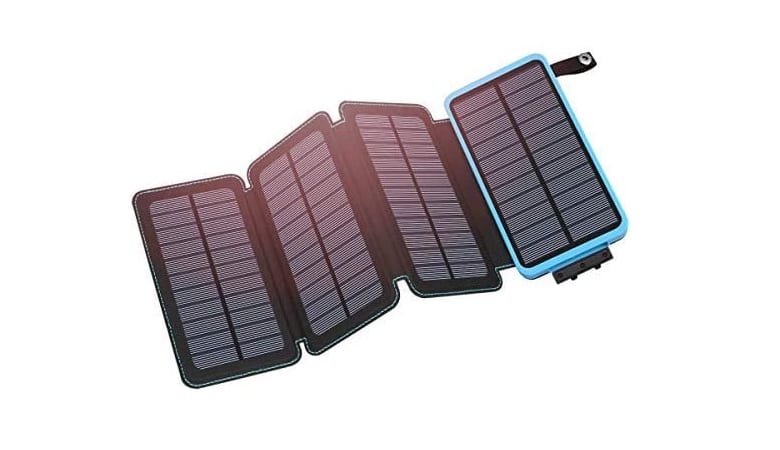 Do you like a lot of power?
Hiluckey offers you the equivalent of 300wh worth of power, built right into this all-in-one kit that really takes the cake for ease of use, because the battery pack is built right into the panel system.
You don't have to do anything apart from angling it up towards the sun.
This acts as a portable solar power bank as well as a four panel system, which folds out in a hard plastic and mesh mat so you can manipulate its position to aim directly towards the sun.
The panels are held together with a strap when closed, so you can fold it up, stow it away, and keep on moving when you need to. Installed in the bottom is a 25000mah power bank, which runs 5V or 2A power out of it.
It's not going to be able to run your fridge in an RV, but it's going to reduce your electricity usage from any recharges you make, or if you're using installed solar panel systems on your RV for your main electrical power source, it's going to give you some relief for your smaller devices that need to be charged.
Because of the low cost, you can make a DIY solution with a few of these and direct over 100,000mah worth of power to a solar power bank, with the right wiring and know-how.
But here comes the kicker. The reason that you have four panels is because they're not built up to the highest standards.
Looking at the price, that's not exactly a shocker, but we did a test where you just blocked out three panels to see how fast the fourth one would charge, and it's very lackluster.
You need to ensure all four panels are aimed properly to get a full charge, because otherwise you might not hit the 1A input current.
As an added bonus, there's 9 built-in LEDs for you to use as an emergency flashlight if you ever need it.
This drains the heck out of the battery, so it's advised to only use it in dire situations so you don't exhaust it. While there's no rating on the LEDs, they're not the focal point here, so using them sparingly will ensure they last for however long their quality allows.
With this purchase, you get a one-year warranty, as well as a 60-day money-back guarantee that you can redeem whenever you need, without any questions asked.
The warranty primarily covers manufacturer defects as a fair warning, but Hiluckey is very good about honoring it and answering any questions you have along the way/
alternative – GoerTek Solar Charger and Power Bank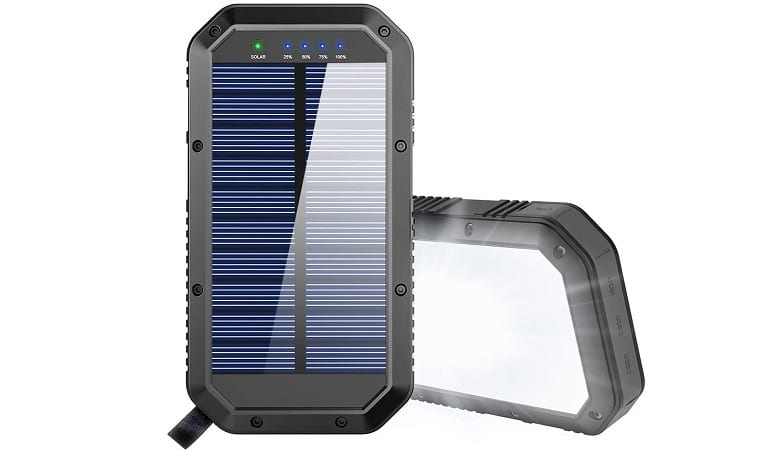 It may not be the most impressive thing in the world, but you'll be surprised at just how much GoerTek's little marvel can do for you.
First and foremost, you get to store up to 25000mah, or 300wh of power in this little dynamite package. That's technically more than the BALDR power bank can hold, which is our top pick for this list (until you add in the conversion).
So what's so special about it?
These are personal solar powered units that have a built-in panel, battery indicator, and connect via USB to your devices to give them a rapid supercharge without issues.
If you're trying to charge your phone, tablet, or even your laptop (with the appropriate adapters), this can come in handy.
The solar panels on this don't run at the 24.5% efficiency rating that we've been enjoying for consumer electronic products in late 2019 and early 2020, but it's still good.
There's no rating, but based on all the other solar panels that we've used, it's definitely not around that level of efficiency.
On average, you need from 8 to 12 hours to really get a full charge going. One caveat to all of this is that when you start charging your GoerTek solar power bank, you have to actually leave at least 25% of a charge on this thing.
If you don't, it actually takes longer to reach that first 25% before it keeps going.
It's because solar panels work with a reaction to heat, and if there's already some electricity still in the power bank, it's easier for it to charge. That's why you don't get a lot of solar efficiency first thing in the morning.
So what can you do with this?
It has a 5V and 2A connection, so you can mix and match how you hook it up. The main benefits here are that this is extremely lightweight and inexpensive to boot, saving you over 90% compared to some of the other power banks on this list.
It's good for a few phone charges here and there, but 25000mah on 5V doesn't convert as well as if it's running on 12V, so you don't actually see as much of that power in your devices.
Other than it being cheap, there are 36 separate LEDs built into the solar panel, so you can use it as an ultra bright flashlight at night if you're camping, hiking, or changing a flat on the side of the road.
Outdoor Solar Power Bank Buying Guide & FAQ
Do Solar Power Banks Really Work?
Yes, solar power banks really do work. Think of them as big portable batteries that you have to charge.
They operate in a similar fashion, usually with rechargeable solenoids or a lithium-ion design. In short, they're basically very big batteries that operate similarly to the battery in your phone or laptop.
A solar charger power bank requires a source, such as a solar panel, and an inverter, which takes the raw power inside of a power bank and converts it into usable electricity (12V/24V outlets).
Are solar power banks more complex than a phone battery?
Of course they are, but with the way they're designed nowadays, it feels the same .They're dead simple to use.
Are Solar Chargers Worth It?
Well, where are you going to put all of that solar energy?
You need something to draw off of, because if you're just running the panels directly to your electronics, you're going to run out of power every time you go through a tunnel. Rainy days will be nightmares.
Solar chargers and their power banks are absolutely worth it. You reduce the amount of time that you stop for charges, mitigate your costs, and get more time to spend on the open road instead of being parked.
Is there a big investment upfront? Yes.
Is it worth it for everyone out there?
No, I wouldn't glorify that idea to you. It is worth it for people who RV more than twice per year, though.
If you're trying to see how far the road can take you before the nine-to-five grind comes knockin' again on Monday morning, or you and your children enjoy three-day vacations whenever you have the chance, you will benefit.
I would say that as long as you're in your RV for 18+ days per year, you're going to save money on it. Even if you don't RV all too often, it's nice to know that you paid a one-time lump sum for your system, and now you don't have to stop for recharges along the way.
As your RV sits there, the power bank will up, so you should always be able to start your trips with a full battery bank.
What is the Capacity of the Average Solar Power Bank?
Around 300wh, or watt hours. For some context, it takes about two sunny days to fully charge most solar power banks, or three if it's moderately cloudy and you're not hitting that peak performance.
The way electricity is measured, distributed and altered through scientific formula is baffling, but the basic understanding that you need if you want to be an informed shopper is that 25000mah is equivalent to 300wh at a 12V output.
300 in any sense doesn't sound like a lot. That amount of electricity might be enough to take a fully electric car motor about 50-60 miles, or it could power a television for around 14-16 straight hours.
Full time RVers tend to bring multiple power banks with them and store a cycle in one before switching to the next. If you use your power banks properly, you're going to get plenty of use out of 300wh.
Either grab multiple banks, or simply go for a higher capacity power bank right from the start depending on how much use you're going to get out of it.
How to Connect a Solar Power Bank with Solar Panels?
In order to use your solar electricity, you're going to have to have an inverter. If you don't, you're just storing power without having the option to use it. You're also going to need a charge controller to help place the energy into your power bank.
Your panels will run straight down to your charge controller, and the charge controller will be connected via adapters to your inverter, but it will also run directly to your battery. Your inverter will also have a direct connection to your battery.
Panels go into the charge controller, then the charge controller connects to the inverter and battery, but by no means should you plug your panels directly into the battery or inverter.
Soak up the Sun
Solar power banks can make a major difference in your energy consumption and indirect emissions for decades to come.
Solenoids in modern solar panels can last for so much longer than they used to be able to, so you can take advantage of this upgrade in technology, and make a serious change for the better.
---