[amazon table="3518″]
In the absence of cooking on a roaring fire, there's no better way to make food naturally than with a solar oven.
These devices have come a long way, and are now more efficient than ever, allowing you to harness the sun's natural energy to do all of your cooking, and without worrying about the strain on the planet.
These energy-efficient ovens come in all shapes and sizes, and whether you're trying to find a portable solar oven to take camping or a permanent fixture for your backyard, there's a lot to choose from.
Considering how much cooking the average family does in a year and the potential for energy to be wasted, it's a fun and efficient way to make a simple change that's better for the environment.
What's the best solar oven on the market, though?
There are many types of solar ovens out there, and depending on your needs in the kitchen, some features might be more important than others. Solar ovens can be basic enough to boil water or advanced enough to cook a three-course meal, so their range varies quite a bit to suit what you need.
If you've been thinking about investing in this greener cooking device, we've got everything you need to make the decision easier.
With our help and recommendations for the best solar oven on the market, you'll be able to find the perfect fit and do your part to reduce your energy output in a fun way.
With the market for solar alternatives expanding, it makes sense that the range of these unique types of ovens only continues to grow as well.
We've hand-selected some of our favorites with the best solar oven design to make your search a little easier, so check out our reviews to see how they performed.
Best Solar Ovens – Reviews & Buying guide for 2020
Best Overall: GoSun Survival Gear Solar Cooker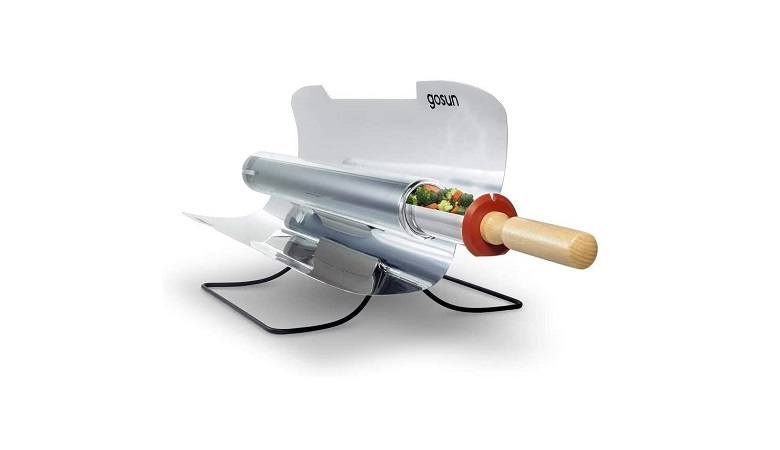 Size: 24 x 5 x 8 inches
Strength: 290 degrees F
Weight: 8lbs
When a mid-range, efficient, and fun solar oven is what you're after, the GoSun Survival Gear Solar Cooker is our favorite pick. This oven measures 24 x 5 x 8 inches and has ample room to cook things like muffins, bacon, and hot potatoes, or whatever you can muster up.
Designed with a cooking tube that you place the food into, it traps the heat and does a thorough job of getting heat all the way through, using only the power of the sun.
What impressed people most about this was the power that was possible with such a small package. Many customers reported being pleasantly surprised at how well it cooked their food and the flavors it helped bring out.
For anyone skeptical that a solar oven like this wouldn't be able to compete with cooking on a grill, all you have to do is give the food a taste to be converted.
Some customers didn't like how you couldn't see what you were cooking because of the tube design, and if you're too impatient to wait and end up opening it to look inside, you'll only prolong the wait time.
If you want a solar cooker that works with a bit more speed, you may want to upgrade, as this is the solar oven best for those who have some time up their sleeve.
The GoSun Survival Gear Solar Cooker can reach temperatures of up to 550 degrees Fahrenheit in full sun and takes only minutes to heat up. Using a solar vacuum tube cooking chamber, it delivers an equal and consistent level of heat to the food inside and takes around 20 minutes to cook most meals.
Although the temperatures are hot inside, the solar oven from GoSun remains cool to the touch. This means if you're around kids, you don't have to worry about them accidentally touching it and getting burned like other outdoor cooking methods.
Included in the package are two parabolic reflectors to harness the sun's energy, a cleaning tool, stainless steel cooking tray, and a detailed instruction manual, giving you everything you need.
To get your hands on the GoSun Survival Gear Solar Cooker and have an eco-friendly outdoor cooking experience, head to Amazon for the best price.
We do not doubt that this parabolic solar oven will be everything you hoped for and more, giving you a fun new way to eat outdoors.
Runner Up: GoSun Fusion Solar Cooker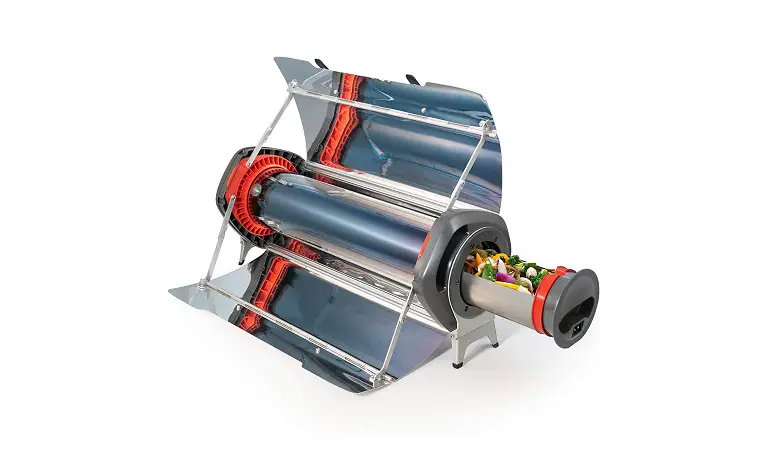 Size: 30.3 x 13.5 x 13 inches
Strength: 550 degrees F
Weight: 14lbs
When you need more than just a basic solar oven and have a family to feed without wanting to expend too much energy, something sizeable like the GoSun Fusion Solar Cooker might be more up your alley.
This is a large size oven capable of feeding up to five people at once, and it has an anodized reflector body that ensures everything is cooked consistently and perfectly.
The best thing about this solar oven was its hybrid capabilities, which means even when the sun isn't shining or the weather's not favorable, you still have an eco-friendly way to cook.
This is an option that many solar ovens don't come with but according to customers, it was what swayed them to make the purchase, so if you'd rather not be inhibited by when you can use yours, it's a good pick.
On the negative side of things, the GoSun Fusion is an expensive model, and although it costs double of some competitors, it feels pretty fragile and as though the parts might fall off at any minute.
For people who plan on taking their cooker camping or roughing it in the great outdoors, you'll need to handle with care. According to customers, it didn't seem to break as easily as it looked it might, but when you're packing cooking gear for outside use, you want a tough contender.
The complete package measures 30.3 x 13.5 x 13 inches so it's one of the larger sizes of portable solar cookers out there. The total weight of all parts is around 14lbs, which is quite heavy, but once it's all set up and ready to go, you'll be pleased that you opted for the larger size oven.
As a solar and electric hybrid, you'll be able to use the anodized reflector body to cook, or a heating element that can be powered up with a lithium-ion battery.
You'll get everything you need including the oven, steel tray, and reflector, as well as an easy way to pack everything up into a neat package and take it wherever you want to go.
The Fusion Solar Oven from GoSun is a revolutionary product for people who are ready to step up their solar cooking to something larger. If you want an eco-friendly way to cook family-sized meals, the GoSun Fusion is one of our favorites.
Alternative: GoSun Go Portable Stove
Size: 14.17 x 7.09 x 3.35 inches
Strength: 550 degrees F
Weight: 2lbs
If portability is your goal for a solar oven, the best choice out there is the GoSun Go. Made by the brand famous for its range of solar cookers, GoSun has created a simple and light option for taking on the road or even using at home, weighing just 2lbs in total.
The GoSun Go uses their patented cooking technology to absorb the sun's radiation, which means just a little bit of sun will get it working.
According to customers, the best thing about this solar oven is how easy it is to set up and take with you.
Whatever your reasons for wanting to try solar cooking, it's a good entry into this eco-friendly method, and because it's so lightweight and small you can easily pack it into a backpack and take it along with you wherever you go.
On the negative side of things though, it's not the fastest as far as solar ovens go. As it's a smaller size, people noted waiting long periods to get basic things cooked, so it's not ideal if you're in a hurry.
Be prepared to wait at least double the time of what a larger solar cooker takes, and because of its small size, you'll have trouble getting a lot of food to fit.
This compactness aside, the oven is still an impressive device, reaching temperatures of 550 degrees Fahrenheit in the right conditions. The oven uses a glass tube to do its cooking, so the food slides into there and gets 360 degrees of heat which leads to more consistent cooking.
The GoSun Go measures 14.17 x 7.09 x 3.35 inches so it's a smaller option, but you can still cook meals and boil water in there, which can be invaluable when you're out camping or at the beach for a picnic.
Included with the GoSun Go Solar Oven are an evacuated glass tube oven, EVA frame, stainless steel cooking tray, cooking pans, cleaning gear, and two parabolic reflectors. It's one of the most complete setups we've seen and considering it all breaks down to a lightweight and compact package, it's even more impressive.
If you're interested in trying what a solar oven is capable of and aren't ready to commit to the bigger styles yet, the GoSun Go is a good place to begin. Although simple, it gives you a good idea of what's possible with solar ovens, and it's a simple little way to reduce your footprint on the planet. 
Alternative: Sunflair Deluxe Portable Oven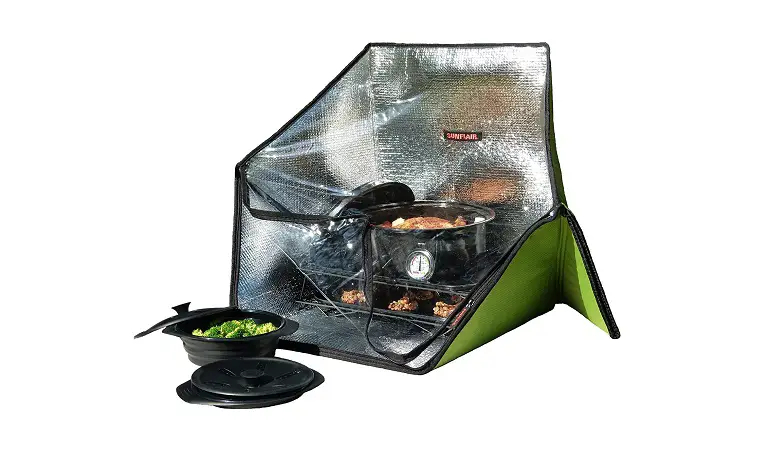 Size: 19 x 15.5 x 2 inches
Strength: 285 degrees F
Weight: 1.2lbs
For the family who likes to cook a lot of different things and wants to start relying less on electricity and gas to do it, the Sunflair Deluxe Portable Oven is a fun way to do it.
This versatile solar oven allows you to cook pizzas, cookies, dry fruits, meats, and vegetables, making it one of the most multipurpose cookers around. Included with the oven is a thermometer, baking trays, dehydrating racks, pots, and carrying bag, for a complete cooking experience on the go.
What customers loved most about this cooker was the size and capabilities of it, especially if you're a larger family looking for something to suit and you often experiment with different recipes.
Sunflair claims their oven can feed up to eight people at a time, which is a real lifesaver, and double what some of the other solar cookers we've reviewed can do.
However, a major letdown of this solar cooker that can put a dampener on cooking, is that it's not capable of reaching temperatures as high as some of the others we've reviewed.
For such a big setup, it looks as though it could be more impressive, but the most you'll get is up to 285 degrees Fahrenheit. However, this is still enough to boil water and heat through most foods, but keep in mind it's not capable of going any higher.
The Sunflair Deluxe Portable Oven folds down to 19 x 15.5 x 2 inches which makes it the perfect camping companion and setting it up only takes minutes. The complete weight of the oven is 1.2lbs which is another impressive feat considering everything it's capable of cooking.
This oven works with closed-cell insulation that allows it to heat food quickly and consistently. The Sunflair Deluxe Portable Oven works best with a UV index of 3+, but it'll still cook in lighter conditions, provided you're willing to wait a little longer for your food.
As a brand, Sunflair is committed to a greener planet, and they donate a portion of their sales to the cause, so you can be sure you're buying from a company that wants to see a difference.
Sunflair offers a 30-day return policy on their solar cooker should you not love it, and when you purchase from Amazon you'll also get free returns and free shipping.
Their current price for the Sunflair Deluxe Cooker is around $190, and for everything, this includes it's a good price. If you don't mind an extended wait time for food, this is a larger size solar oven that can feed the whole family with ease.
Alternative: Ete Etmate Solar Oven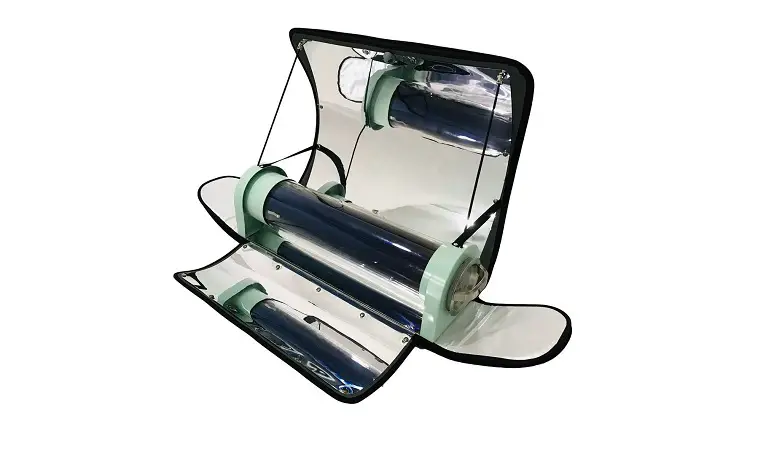 Size: 4.92 x 4 x 22.8 inches
Strength: 550 degrees F
Weight: 11.24lbs
To cook things naturally and with minimal strain on the planet, the Ete Etmate Solar Oven is the way to go. This portable oven kit comes with everything you need to get started including solar panels, a large cooking tube, and a carry case.
The Ete Etmate Solar Oven is a good size oven with a cooking tray that spans up to 22.8 inches, which makes it one of the largest in this price range and ideal for larger families.
The cooking time of this oven made it one of the most impressive finds, with reviewers claiming they had some meals done in just 15 minutes.
Provided you can use it in the right conditions and with optimal sunlight, you'll be able to get fast and energy-efficient meals as well, which takes a huge burden off your energy and gas use.
The weight of this takes away from its portability, and according to customers, they were surprised at how heavy it felt for something that was meant to be used on the go.
The complete setup weighs around 12lbs so you don't want to take it along hiking or camping unless you've got help to carry it, which disappointed some people who got it for this purpose specifically.
The total volume of the oven is 4.5L which means you can cook a large meal inside without a fuss and its dimensions are 4.92 x 4 x 28.8 inches. The maximum temperature capable with the solar panels is 550 degrees Fahrenheit, and when you've got the right sunlight, it'll reach this in around 15 minutes.
The Ete Etmate Solar Oven comes with a 304 food-grade stainless steel tray where you do all the cooking, and it can be washed out for easy cleaning when you're cooking outdoors.
This solar oven enables you to cook hot meals without the use of gas, fire, and electricity, and although it harnesses the sun's radiation to work its magic, its self-healing polymers ensure it's going to last for years to come.
If you want a larger solar cooker to feed your family and don't mind a heftier setup and weight, the Ete Etmate Solar Oven is a good choice. It comes with quality craftsmanship and materials, as well as the option or free returns should you not be happy with your purchase.
Solar Ovens FAQs
Cooking with a solar oven is an easy way to do your part for the planet, and a fun experience that can add some enjoyment to mealtime.
Whether you're looking for a solar oven for camping or home, there's a lot to find out, so we've answered some commonly asked questions that can give you a head start.
What Is A Solar Oven?
A solar oven is a cooking device that uses the sun's natural energy to get its power.
These ovens contain grids that trap photons that generate heat, that can then be used to cook food. There are varying levels of strength and size, so depending on what you need, you'll have to shop accordingly.
How Hot Can A Solar Oven Get?
The most expensive solar oven models on the market can reach temperatures of up to 600 degrees Fahrenheit which is enough to compete with a standard kitchen oven.
However, the more basic models might only reach around 300 degrees Fahrenheit which is substantial enough to heat food or cook over longer periods.
Do Solar Ovens Work In The Winter?
Provided there is minimal cloud coverage, you can use a solar oven in all kinds of weather, even during winter.
The sun's brightness is what determines how much energy it can help these ovens create, and not the temperature outside, so there's no reason you can't use a solar oven in the colder months.
What Can You Cook In A Solar Oven?
Depending on the oven you have, it will be capable of cooking different types of food.
The basic models are good for heating things through whereas more expensive premium solar ovens can cook complete meals like roast meat and potatoes, without any noticeable difference from your regular oven.
Cooking the Natural Way
There's nothing more natural than using the sun's energy to cook your next meal, and it's never been easier with the latest range of solar ovens.
These amazing cooking devices can completely revolutionize the way you work in the kitchen, or out of it, and you don't have to feel bad about using any electricity or gas to get the job done.
With our recommendations and solar oven reviews, you'll be able to find one that suits your cooking requirements and gives you a fun and green way to prepare food.
Even making the switch to your solar oven on camping trips or weekends can reduce your carbon footprint significantly, and there's no need to sacrifice cooking quality with the new models of solar ovens out on the market.
---