[amazon table="2757″]
Having convenient, powerful light is important for so many different reasons.
Chief among them are car breakdowns at night and blackouts: you want to have a flashlight handy that you can rely on, one that's bright and maximizes visibility in your field of view.
Solar flashlights used to be something laughable about twenty years ago, but with modern advances, they're even more powerful than your standard AAA-powered flashlights.
One solar flashlight can be enough to light up the darkest paths and surround you in clear light, giving you peace of mind, and a clear view of where you're going in adverse situations.
We're here to show you the very best ones that you can possibly ask for, in terms of lighting, battery retention, and ease of use/charging. Let's take a look at your new solar-powered best friend.
Best Solar Flashlight – Reviews & Buying guide for 2020
Best Overall: Otdair Solar-Powered LED Flashlight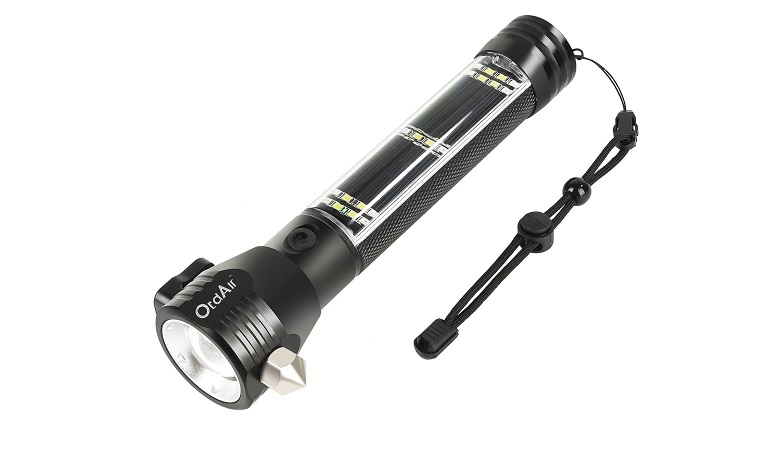 When the lights go out, you need something reliable, something bright, and absolute certainty that you can get it to work even in the midst of a three-week blackout (should that ever happen).
This powerful Otdair solar flashlight is a little bit bulky, but it comes with all the bells and whistles that you're ever going to need in these types of situations.
As the best solar powered flashlight on our list, it comes with integrated panels so you don't have to hook it up to a separate panel for any reason.
The beautiful thing is that even if you don't end up using all this juice on the flashlight, you can use it like a power bank to recharge your phone via a USB or Type-C port. You can even get adapters to help you hook this up to your lightning cable.
Five modes are at your disposal for camping, hiking, or calling in an SOS when things get rough. Amongst all these modes, the most impressive is the focus.
You can have the focus knob off to give a bright beam of light that blankets everything in front of you, or tighten that knob to focus the light in a straight line that brightens up further distances, just with less peripheral visibility. You can adjust this as you use it for the best view all around.
Lumens are a way that we gauge how powerful a light is, and normally, the more lumens you have, the brighter a flashlight can be (with stipulations, but this is the best method of measuring it).
You get a whopping 500 lumens in this little flashlight, which can produce enough power to light up over a hundred feet in front of you with reasonable clarity.
On top of everything else, it's crafted from a hard plastic and metal, giving it a decent weight when you utilize some of the other features.
There's a built-in belt cutter in case you need to keep this in the car, as well as a striking pommel that can either be used to break your car window, or as a self-defense weapon if you absolutely needed one.
Overall, this packs everything in a slightly bulky, but overall very useful and versatile flashlight, all powered by the rays of the sun. Recharge times can take a while, but considering the fact that this isn't an everyday use kind of item, it's to be expected.
Size: 9.5" x 4.4" x 2.3"
Type: LED
Lumens: 500
Power: Solar; 2000mAh
Runner up: NPET T09 Solar Car Flashlight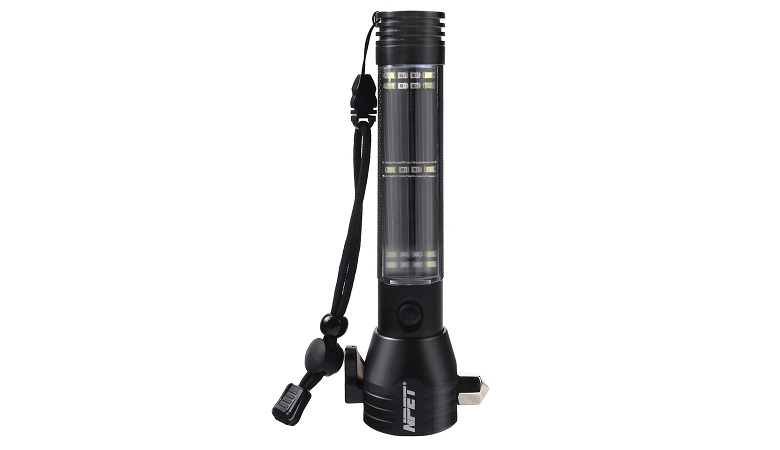 Much like the Otdair flashlight, you get more than just a flashlight with this purchase. While their price points are around the same area, this doesn't pack quite as many punches, but it's still more than your average flashlight.
First and foremost, the solar panels on the handle are integrated and fairly large, so you'll be able to absorb a lot of solar energy in a short amount of time.
It's the second best solar flashlight, but arguably, the best pommel out of any of these flashlights. It's small but powerful, and packs a belt cutter on the opposite side.
These both sit on the metal head of the flashlight, so they won't get in the way of any protruding light. Most flashlights end up storing these on the hilt, but those can actually lead to some accidents when you try to retrieve your flashlight; NPET thought ahead.
For your solar panel, you have the best of the best—monocrystalline silicon, which actually lasts for up to thirty years before they're no longer viable. They still work past this point, they just don't retain anywhere near as much solar energy as they used to.
As an added feature, there's a compass in the bottom with a light-up ring that lets you know what you're looking at.
It's a very low wattage light so you aren't blinding yourself, but so that the entire compass is visible. You have to remember that many of these flashlights are designed with survivalists in mind.
Plug in a USB cable to the bottom of the flashlight to use it as a portable power bank as well. What good would all this solar energy be if you weren't utilizing it for more than just the flashlight? With long-lasting panels and a durable build, this is a flashlight you'll likely have for the long haul.
Size: 7.8" x 1.8" x 1.3"
Type: LED
Lumens: 268
Power: Solar; 2000mAh
Alternative: Delxo Patriot LED Car Flashlight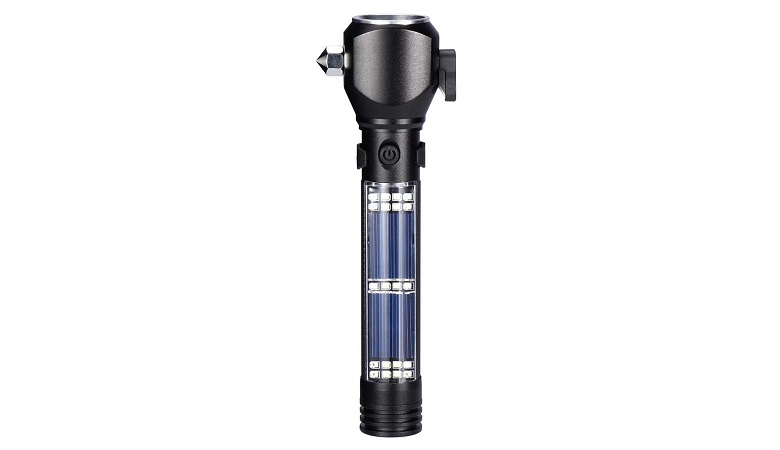 Dexlo comes in with one of the most affordable solar flashlights on our list, with a panel size that rivals everything we've seen so far. Much like the others, this solar rechargeable flashlight comes with full utility by adding a few extra little features hidden along it, which can help you in a pinch.
For one, it has a 2000mAh battery, which is pretty standard amongst what we've seen. The good thing about that is that it's still standard for this type of flashlight, but still falls under budget, which is always helpful.
This flashlight has a fairly high water resistance rating, so using it in the rain when you need to change a fuse or check your engine is absolutely allowed.
Portability is perhaps one of the greatest features here. Without being too heavy, this flashlight remains compact and easy to conceal in a backpack, or even in some deep pockets if you need it on-hand when you're travelling.
The charging time is where it gets a bit dodgy, but considering that you're likely to use this for emergencies and not for daily use, it gets the job done.
It takes about thirty hours of solar exposure for a full charge, which means about three days during hours where there's enough sunlight. Alternatively, you can also use a USB cable to charge it up.
There's an embedded car emergency escape tool, which is basically just a wide pommel built onto one side of the flashlight. This can crack car windows effectively, but it can also be used for moderate self-defense if it's all you have on hand.
Last but not least, there's one little cool feature here: a magnet built into the head of the flashlight. You can simply let it snap to your car and be held up by the magnetization, or even have it on the side of your fridge in case the power goes out.
Size: 9.7" x 3.9" x 2.2"
Type: LED
Lumens: 200
Power: Solar; 2000mAh
Alternative: SOS Solarlight Flashlight with Compass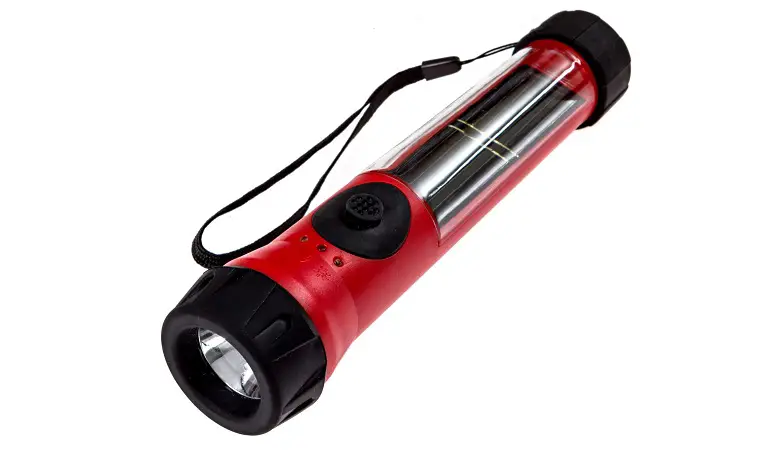 Solar powered flashlights are nothing new, and while this is a solid flashlight, it sticks to some old aesthetics. It's about what it can do, though, so don't worry quite so much about the outdated buttons. On this SOS solar flashlight, you do actually get an SOS mode if you're in trouble.
This is the bug-out bag essential flashlight for a few reasons. It's solar, but it's also not ultra bright like some of these other flashlights that we've seen.
This is good for these scenarios because in a bug-out situation, you don't want to attract attention. You just want to be able to see where you're going, and then get there undetected.
So what makes it a great solar flashlight? It has smaller batteries (two separate 220mAh batteries) that can charge fairly quickly, so even if this dies on you, it doesn't take all too long to charge it back up.
Three to four hours at the most. Most of the time, we're not using flashlights for incredibly long durations, so this is the ultimate go-between if you just want what works for the time being.
While I wouldn't recommend this as your emergency flashlight for blackouts, it's still very effective regardless of that fact. 60 lumens is enough to light up a moderate path, and the build is fairly lightweight.
The cost is low, which is what attracts many people to this particular flashlight. While there aren't a lot of extra features, the compass in the handle is a nice touch.
Size: 9.9" x 4.9" x 1.7"
Type: LED
Lumens: 60
Power: Solar; two separate 220mAh batteries
Alternative: VADIV Hand Crank Solar Flashlight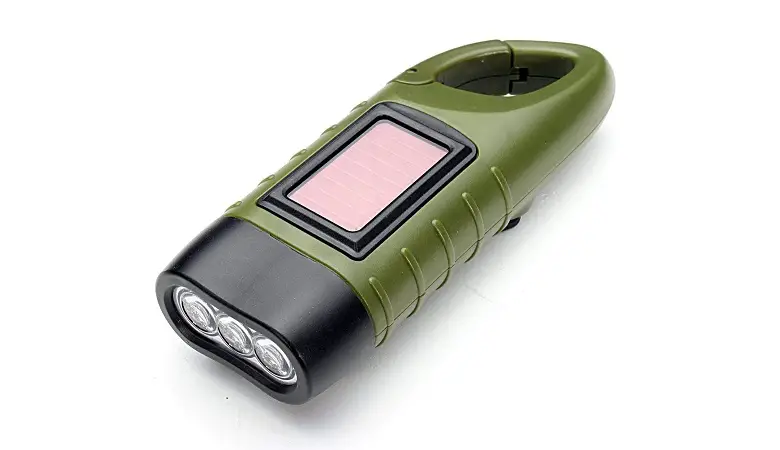 Solar power works in even the smallest applications. This mini hand crank flashlight comes with a small solar panel built on one side, which absorbs energy at a fairly slow rate, but that's why you have the backup method.
Hand crank flashlights are something you definitely use in emergency situations. Not everyone has a lot of funding available to be able to pour into their emergency preparedness, but thankfully, VADIV's flashlight is anything but expensive.
As far as solar LED flashlights, this doesn't come with a huge burst of power. Hand crank flashlights output less light the lower the battery is, so while this has 100 lumens, it will dim as it reaches that halfway point in the battery.
Being compact, this can easily slip into a small pocket or sleeve in your backpack, can fit in your pants pocket, and even have a carabiner clipped right onto it so it can hang from your jacket or whatever you need.
It's versatile, it's useful, it's just not the most powerful. I would recommend these for indoor situations so that you can see what you're doing when the power goes out, or a similar event.
Size: 5.5" x 2" x 1.4"
Type: LED
Lumens: 100
Power: Solar, hand crank
Solar Flashlight Buying Guide and FAQ
How Does a Solar-Powered Flashlight Work?
We've shown you a lot of solar flashlights reviews, but if you're wondering how each and every one of them work, it's all due to the panels and the batteries .To understand how these flashlights work, let's first take a look at how solar panels work as a whole.
Solar panels use photovoltaic cells, which are what actually convert the sunlight into electricity that you can use. When light travels from the sun to the earth, it brings with it a barrage of photons, which are filtered through the top layer material of solar panels, and transformed into direct current (DC) electricity.
That runs through an inverter, which then connects to a power supply source that you can use (in a home, that would be an outlet where you can plug something in).
With solar flashlights, that's a lot to compact into this small handheld thing. The reason they're so inexpensive and why they work, is because you'll only see a few square inches of panels on here.
The panel on top filters those photons to a small PV panel underneath its surface, and does the same as a rooftop solar panel would do. That means there's a tiny inverter in there as well, running straight to your battery and supplying it with power.
For the rest of your flashlight, it works just like any other—the other end of the battery is connected to the LEDs, where it supplies electricity, which is then turned into light through each individual LED.
However, no two solar panels are created equal. We've actually had solar panels for over a hundred years, they just weren't very effective at the time, trapping as little as 0.5% actual energy, compared to the highest efficiency rating in 2020, which is 22.3%.
It doesn't seem like a big jump, but 22.3% is absolutely phenomenal.
Those are not the kinds of panels you have in your solar flashlight. You'll notice that on the sales pages for most of these that they're relatively inexpensive, and the panels are thinner-looking than the full 24" thick roof panels that you see on homes. That's because it's a different kind of PV panel.
These are less energy efficient. You're not going to get 22.3% on these by a long shot, but because they are small gadgets, they don't require nearly as much power. It's a good balance.
Do Flashlights Work on Solar Panels?
Funnily enough, you can actually use flashlights to charge a solar panel. You can use one solar powered flashlight to charge another flashlight.
That being said, there is such a high dropoff of net energy that it's not worth it at all, it's just a fun quirk about these products.
But the deal is that they have to be LEDs. If they're not LEDs, they aren't going to work at all. The light emitted from standard flashlights do not have enough photons to properly charge solar panels. Not that LEDs do it properly with a good efficiency rating, but you get the idea.
How Many Lumens Can You Expect From the Solar Flashlight?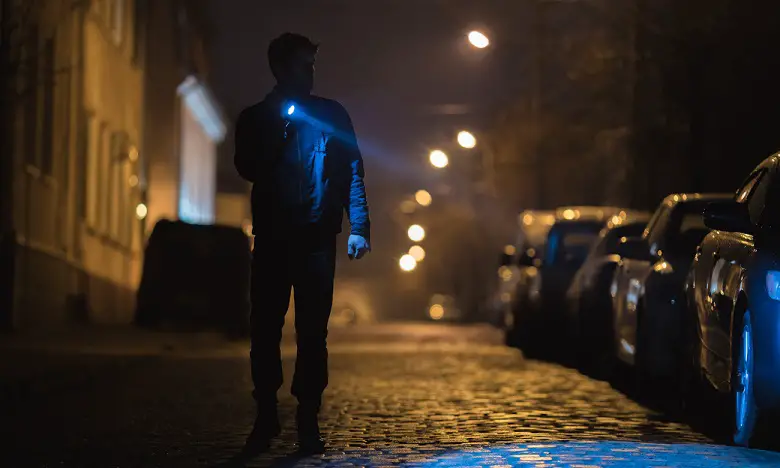 If you were talking about ten years ago when solar flashlights were first really introduced heavily into the market, I would tell you that the lumens were pathetic. However, we're all looking towards solar energy for our future, and the advancements that have come through are fantastic.
Many of us tried solar flashlights back in the day, but the efficiency was so low that the batteries couldn't charge properly. One of the biggest problems with lithium-ion batteries and any rechargeable battery is that most people don't cycle the batteries.
If you've ever looked up tips for making your phone battery last longer, you've probably seen a tip that says you need to let the battery run out completely, and then recharge it from empty. That's power cycling a battery, and when you have inefficient panels, you can't cycle efficiently in the least.
This basically led to really weak batteries, which translates to low lumens and weak beams of light coming out of the end of your flashlight. Nowadays, we can expect a lot more lumens out of these solar flashlights thanks to fixing the panels and battery power that you run into.
Many of the flashlights on this list can produce up to about 400 lumens, which is a fairly bright beam. It translates to 40W in total, so if you stare straight at a 40W bulb that's uncovered with no lamp shade, then that's basically what comes out of a 400 lumen flashlight.
This question is so important because a lot of these flashlights can be used for self-defense. Not for attacking someone physically, but anything over 100 lumens can temporarily blind someone and deter them from attacking you. Imagine what 400 lumens can do?
What is the Duration of the Solar Flashlight?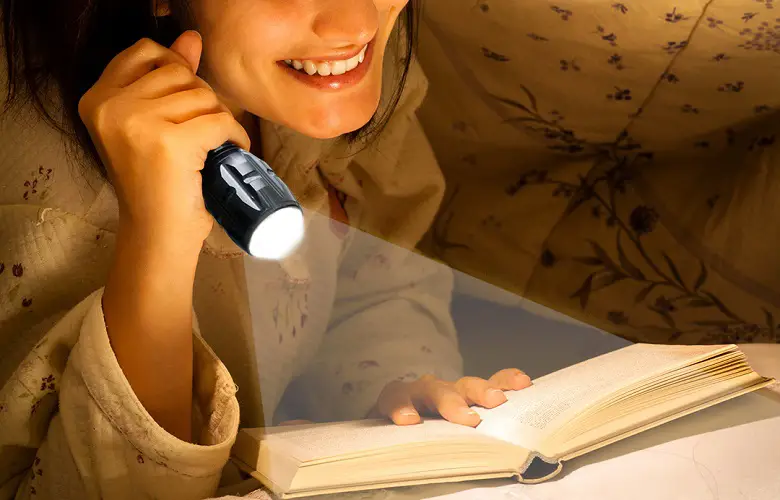 In terms of the physical flashlight chassis, that all depends. You have hard ABS plastic handles and metal shells as well.
Metal is going to last for as long as you take care of it. If you don't expose it to highly oxidized areas, it can last for years and years. ABS plastic is a different story. It either lasts for a century, or you drop it and it can crack. It all depends.
In terms of the actual solar components, we have three things to look at and try to feel around for their durability and longevity.
LEDs
These aren't exactly equipped to last for the longest time. Better than incandescent light by a long shot, LEDs can have a five to twenty year lifespan depending on the quality and the manufacturer.
LEDs can go out at a moment's notice, meaning you'll need to replace the entire panel of LED bulbs. This is random, and usually only happens after literal hundreds of hours of stress (sometimes thousands). Either way, LEDs will last as long as necessary, which is why they're the better option.
Battery Life
Batteries aren't meant to last forever. Most lithium-ion batteries (sizes change this and it varies) have about five-hundred full cycles through from start to finish, and at that point it loses about 20% retention efficiency.
After this point, the battery begins to die a bit, and when it gets to about 50% retention, the battery is often discarded and swapped out for another one. Battery life is one of the reasons that the overall life of a flashlight cannot sustain the final element on this list.
Solar Panel
Solar panels in general are set to last for thirty years, although it's known that they can actually last longer, just with diminished efficiency. Because solar panels aren't going to break down by UV rays, they're definitely sustainable.
The small panels in your flashlight might last for about twenty years, although that time could be extended depending on how you take care of your panel and how much exposure it gets. This is surely the longest lasting component to any solar flashlight.
Solar Power for Every Occasion
Solar power is utilized more and more every single day, in smaller gadgets and light applications alike, and it's becoming the dominant form of light.
If you're sick of not having batteries on-hand when you need a flashlight the most, it's time to opt for a solar powered flashlight that can illuminate the night, and retain its solar charge for months on the shelf.
---