[amazon table="3605″]
One of the most successful campaigns in recent years would have to be the one prompting people to move away from using disposable straws.
Cafes and restaurants now offer paper straws, there's a lot of education on the damage that the disposable ones do, and people see it as an easy way to make a change for the better.
Although there's been a huge shift in our reliance on these harmful disposable products, there's still the chance to do one better.
With your own reusable straw, you can ensure you keep up the good work while you're at home, and even have a quality straw to take with you on the go, ensuring that you never have to opt for a plastic one again.
So, what are the best reusable straws on the market?
There are a few different types of straws out there, depending on what material you prefer. Metal, silicone, and eco-friendly plastic alternatives are some of the most popular, with further features like collapsible straws being trendy choices as well.
With your own plastic straw, you can commit to this change along with the rest of the world, and start to make a real difference from home.
With our help, you'll find the best reusable drinking straws on the market in all shapes, sizes, and materials, and be able to do your part for the environment in a small but effective way.
We've searched far and wide to come up with the best choices for reusable straws on the market, giving you only the best of the best to select from. These represent our favorites in the eco-friendly straw department and we're sure they'll make your life a lot better, and greener, as well.
Best Reusable Straws – Reviews & Buying guide for 2020
Best Metal Reusable Straws: Hiware 12 Pack Reusable Straws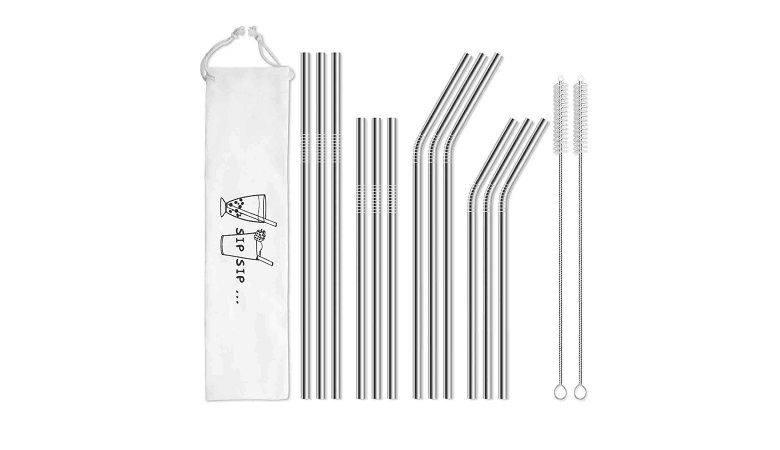 Number: 12
Material: Stainless steel
Type: Straight and bent
To equip your home or business with enough straws to make a real difference to the planet, the Hiware 12 Pack of Reusable Straws is our favorite.
These are the best reusable metal straws money can buy, and as well as containing the drinking device, you'll also get cleaning brushes and a natural cotton bag if you ever want to take them with you.
There are lots of options for how to personalize your straws, with colors available including rose gold, gold, silver, black, and even rainbow. 
What customers loved most about these straws was how they made their drinks taste. Sometimes with cheaper stainless steel straws, it's easy to taste the metal in your mouth afterward, and this puts a lot of people off from using them.
However, the Hiware brand has ensured this doesn't happen, so all you'll be able to taste is your refreshing drink.
Although, customers didn't particularly like the coating on some of the colored options. Some people have mentioned that the rose gold straws started to lose their color after a few months. To prevent this from happening, you might want to stick to the stainless steel silver color only and avoid disappointment.
The Hiware Straws are BPA and lead-free, and are made with 18/8 food-grade stainless steel. Within the pack, you'll get three straight straws and three bent straws for 10.5″ tumblers, and three straight and three bent ones for smaller 8.5" tumblers.
Having both sizes was a nice touch and meant you didn't have to drink uncomfortably with a larger straw in a small glass just to be eco-friendly.
These straws are easy to clean thanks to the two nylon cleaning brushes, and you can throw them straight into the dishwasher to do the job for you.
Each of Hiware's straws is capable of replacing 500 plastic straws, and sometimes more, which means the entire set can save 6,000 disposable straws from reaching the ocean and landfills.
To get your hands on the 12 pack of stainless steel drinking straws from Hiware and make a real difference, head to Amazon for the best price.
They offer free shipping on your first purchase, otherwise, you'll have to pay a small fee, or invest in a few packets to share with friends and family and skip the shipping charges altogether. 
Runner Up: Vehhe Metal Straws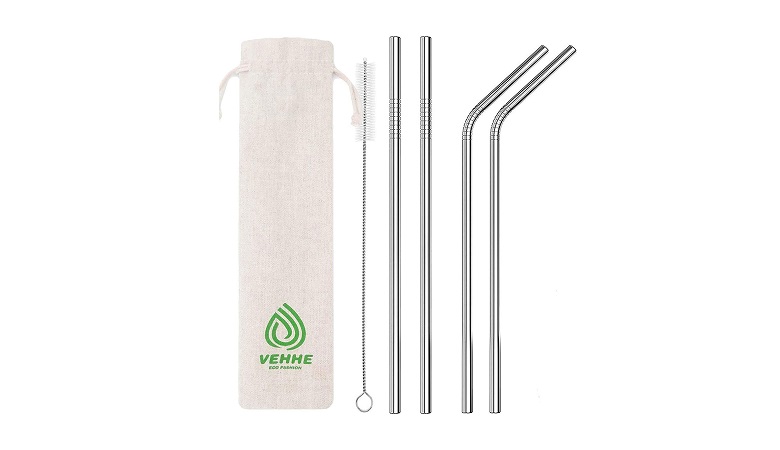 Number: 4
Material: Stainless steel
Type: Straight and bent
Vehhe has created a set of stainless steel straws to suit every person, with color choices including gold, silver, and rainbow.
Within this set, you'll get four straws which comprise of two bendy straws and two straight straws, both measuring just over 10 inches. Within the set, you'll also get a cleaning brush that fits inside of the straws, making it easy to keep them in good condition.
According to customers, they loved having the choice to use either a bent or straight straw, as it made it easier to use them with a bigger range of drinks.
If you have kids especially, the addition of the curved kind helps them to get a handle on the straw, so one set is more than enough for the whole family. The size is big enough for most tumblers and won't topple out of smaller drinks, so it's a good versatile pick that suits all kinds of beverages.
There were a few disappointing comments about how thin the straws are, so if you're someone who prefers a thicker style and a wider diameter, these might not be for you.
Those who drink thicker smoothies and shakes with them will probably want to upgrade, otherwise, the chunks of fruit and other ingredients can cause a blockage.
Vehhe Metal Straws are made with 18/8 304 grade stainless steel making them food grade and safe for human consumption. They're BPA free, plastic-free, and will keep their color even with years of use, helping you to make a real difference when switching from disposable straws.
When you're ready to clean them, just put them in the dishwasher, and if they ever need an extra touch, you can use the included cleaning brush.
The straight straws measure 10.5" and the bent straws 10.03", and all of them come contained in an eco-friendly carrying pouch, so all parts having the environment in mind.
One package of these straws has the potential to save thousands of plastic ones from ending up in the ocean, and it's an affordable way to do your part.
The Vehhe Reusable Straws are convenient and affordable, with the best price for the set being on Amazon.
Best Silicone Reusable Straws: Flathead Reusable Silicone Straws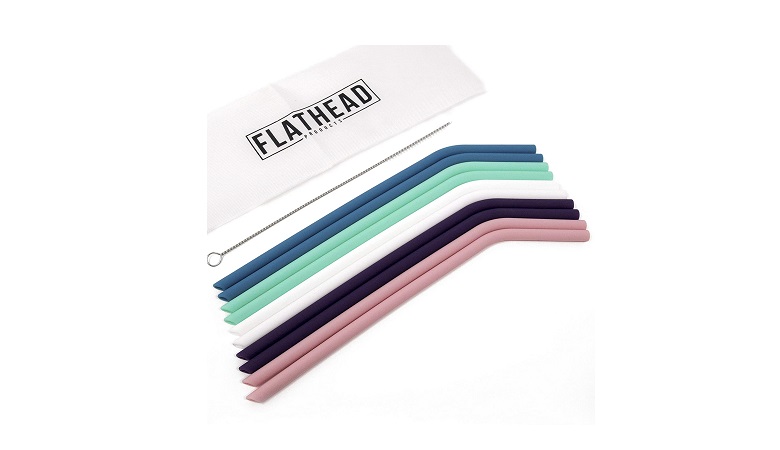 Number: 10
Material: Silicone
Type: Bent
If the average stainless steel straw feels too harsh for you to drink from, a silicone option may be best.
Our pick for the top silicone reusable straws come from Flathead, made from 100% food-grade BPA free silicone, they're a softer way to do your part for the planet, with all of the benefits that silicone comes with.
These straws can be used with either hot or cold drinks and they'll keep their shape either way, as well as being free from the nasty chemicals that normally leach from plastic straws.
Customers' favorite thing about the Flathead Reusable Straws is how soft and flexible they were, without losing any of their durability.
They're a great choice for children as there's no risk of being poked with stainless steel, and the tough silicone construction means they're built to last for years. People found them less harsh on their teeth as well, so if you have sensitivity in that area, making the switch to silicone is better.
The width of these straws is just slightly bigger than a regular straw, which didn't please some customers. If you're used to drinking heavier drinks like smoothies and fresh juices with pulp and other thicker ingredients, you might have to struggle to get them through.
For thin liquids, it shouldn't be a bother, unless you're someone who prefers a larger diameter straw with a wide opening.
For a silicone type, these are the best reusable straws with case and cleaning brush included, just as you'd get with stainless steel.
Flathead Reusable Straws come in a pack of 10 and with different pastel colors of teal, purple, pink, and blue, making them one of the more stylish options enabling you to do your part for the environment.
Flathead has designed these straws to be compatible with Tervis, RTIC, and Yeti 30 and 40oz tumblers, but there's no end to how you can enjoy them.
As an extra-long straw with a bent shape, they're not ideal for short tumblers and measure around 10 inches in length. You can use the included cleaning brush or put them in the dishwasher for easy cleaning, and because they're food-grade silicone they can withstand the highest temperatures.
If you prefer silicone over stainless steel, our top pick is the Flathead Silicone Reusable Straws. For a softer and funkier way to cut down on disposable and reusable plastic straws, these silicone ones are a great choice.
Runner Up: WonderSip Reusable Straws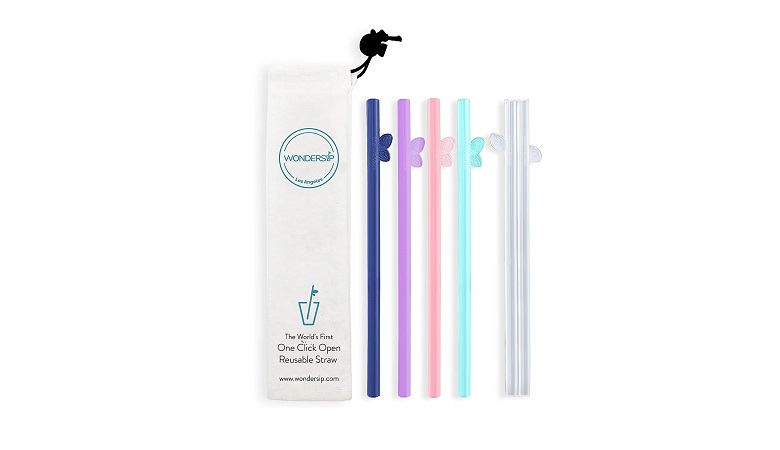 Number: 5
Material: Polypropylene
Type: Opening straw
WonderSip has created a truly unique type of drinking straw with its one-click open reusable straws. These polypropylene straws are made in a one-piece design that opens in half and then closes as needed, giving you an easier way to keep them clean without relying on fiddly brushes and tools.
With five straws in each pack, you'll get a product with a whole lot of personality compared to other reusable options.
The best thing about these straws was their design, and how they offered a unique way to drink and keep clean reusable straws.
Customers loved how you could open up the Wondersip straw with the special button which saved a lot of hard work with cleaning brushes, and their kids were prompted to drink even more water because of the fun designs.
There are so many styles to choose from as well, so you can choose one that matches your personality and taste.
On the downside, the Wondersips are very expensive compared to other reusable straws, and this alone could put some people off.
Although the open and close function is helpful, some customers found that one of their straws in the set lost its seal after a few months which rendered the straw useless, and for the high cost, this isn't something you want happening.
The WonderSip Reusable Straw comes in many shapes and sizes, with options including the standard size of 8 inches, a 6-inch junior straw, and a 10.5-inch long straw. Within each of these sizes, you can also choose the design you want for the one-click button including butterflies, leaves, and dolphins.
The button has more than one function, so it's not just there to help you open and close it. You can also use it as a straw stopper to keep it from moving around, which is a nice feature to have for convenience.
With an 8mm diameter, it's good for most sizes of drinks as well, so you have a lot of versatility. The straws are made with polypropylene which is BPA-free plastic, but slightly less durable than silicone, which would have been a nicer touch.
If you want your straws to have some personality, the Wondersip Reusable Straws are a great option. These straws are a great way to get your kids excited about drinking water and doing their part for the environment, so they're worth the extra cost.
Best Collapsible Reusable Straws: Doboli Reusable Collapsible Straws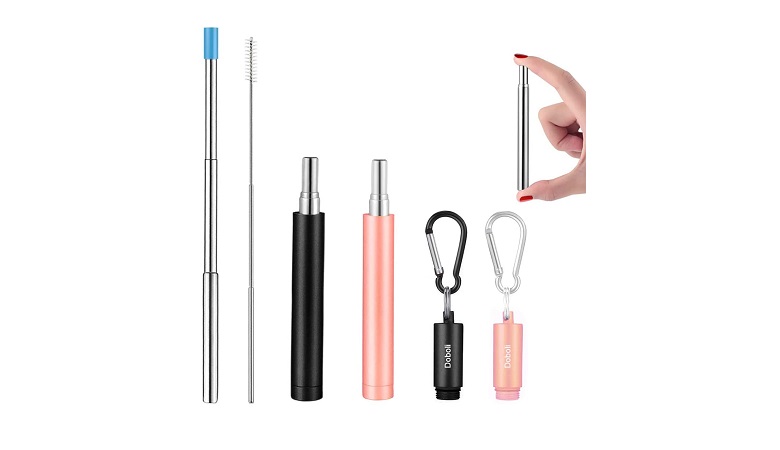 Number: 2
Material: Stainless steel
Type: Collapsible
When convenience and compactness is your goal for a drinking straw, the Doboli Reusable Collapsible Straw is a great choice. This straw collapses down to a miniature size small enough to fit in your pocket and is a full nine inches when it's extended, so you get the best of both worlds.
The Doboli Straws come in a huge range of colors and designs, including black and blue, rose gold, and black and pink, so you can choose one to suit your style.
According to customers, the best touch of this straw was the included keychain that allows you to keep it with you. This means you can be out and about and use your use, without having to remember to pack it along it=n your bag.
However, the Doboli Reusable Collapsible Straw has some minor design flaws which can become an issue when not cleaning properly.
According to customers, there was a tendency for rust to develop if you didn't dry it out. For the price, this is something that will hopefully be fixed in the next model and will help them to last a lot longer.
With the unique telescopic design, this large straw can compact down to virtually nothing and can be packed away in your pocket if you wish.
You'll get everything you need includes like two straws, a cleaning brush, a carrying case, and a keychain. The nine-inch straw suits most types of tumblers and it has a straight shape without a bend on the end, which some people prefer to drink from.
The Doboli Reusable Straws are made with stainless steel so it's safe for human use and easy to clean in the dishwasher if you'd rather not use the included stainless steel brush.
This material makes them ideal for enjoying either hot or cold beverages, and when taken care of, will last for years and save potentially thousands of straws from ending up in the oceans or landfills.
To get your hands on these compact and convenient drinking straws, head to Amazon for the lowest price of around $6 for a pack of two.
The Doboli Reusable Collapsible Straws are a gamechanger for people who always forget to bring their straws along, and they can help you make your mark on the planet but reducing your reliance on disposable straws the fun way.
Reusable Straw FAQs
Reusable straws have been one of the biggest icons of the eco-friendly movement, representing a very easy way that we can all make a difference.
As with any new product, people have a lot of questions about how they work and their effectiveness, so we've answered some of the most commonly asked ones to give you an insight into the reusable straw.
Why Should You Use Reusable Straws?
The key reason why plastic straws are no longer viable is because of their harm to the planet and the person using them.
These straws contain ingredients like BPA and polypropylene that are capable of leaching dangerous chemicals into the liquids we drink, but they also help attract other chemicals and bacteria when they're in the ocean.
Furthermore, they present a risk to marine life and wildlife as a choking hazard and can sit in landfill for hundreds of years.
Best Way To Clean Reusable Straws
If your reusable straw doesn't come with its personalized cleaner, there are some other options for keeping it clean.
Some can be put in the dishwasher, others can be washed with a pipe cleaner, and the stubborn ones can be cleaned by placing some dental floss through the middle of them and scraping around their edges.
Are Reusable Straws Safe?
Although the main goal of a reusable straw is to reduce landfill and our strain on the planet, they're considered a much safer option for humans as well.
Bamboo, silicon, paper, stainless steel, and glass are all alternative options that are far healthier to drink from than sipping from a plastic disposable straw, so there's no need to worry about your health.
Are Metal Straws Worse Than Plastic?
There are some claims that to develop a metal straw uses around the same amount of energy as making 90 disposable plastic ones, but if you plan on using it forever and take care of it, you can far surpass this.
Choose a metal straw made from recyclable materials and stainless steel, and keep it in good condition so it lasts for years to come.
The Eco-Friendly Way to Sip
Whether you like to sip on ice-cold lattes or prefer drinking your water through a straw, there's no need to do any harm to the environment while you do it.
Gone are the days when people would churn through countless plastic straws in the name of convenience, with the reusable straw now offering far more convenience than ever.
With our top picks, you'll be able to find a straw that fits you perfectly and gives you the convenience and peace of mind that these revolutionary green products offer.
Just one simple switch like using a reusable straw can lead to an avalanche of change in your life, so enjoy the feeling that being eco-friendly brings.
---