[amazon table="3507″]
The world's love for coffee is undeniable, but over the years, it's also created some problems for Mother Nature.
Most notably, the craze of takeaway coffees and barista houses making drinks you can pay for and leave with, resulting in a huge number of throwaway coffee cups that take up landfill and litter the streets and oceans.
The invention of home coffee makers like Keurig has undoubtedly been a savior when it comes to these takeaway cups, but it's created another problem as well.
The small k cups used to create the coffee are also made of harmful plastics and other materials that don't break down, which was another major hurdle to be cleared until the reusable K cup was invented.
What is a reusable K cup and what's the best one on the market?
These reusable k cups allow you to fill them up with the ground coffee of your choice and place them into the coffee machine, getting rid of the everyday waste that the throwaway ones created.
The best K cup reusable filter depends on what machine you use, your preference in materials, and your price range, with some performing better than others on all fronts.
If you want to make a difference in every way you can, switching to one of these eco-friendly filters is a good way to start.
We've found the best reusable K cup filter options on the market, what they offer, and whether they're right for you, so all you have to do is make the switch and help the planet.
The K cup has become a popular way to enjoy coffee from home without giving up on the barista-quality your favorite coffee house is known for.
By making the switch to a reusable filter, you can do one better, and give up the disposable cups and disposable filters at the same time. These are our top finds for the best K cup reusable filters on the market today.
Best Reusable K Cup – Reviews & Buying guide for 2020
Best Overall: iParts Plus More Reusable K Cups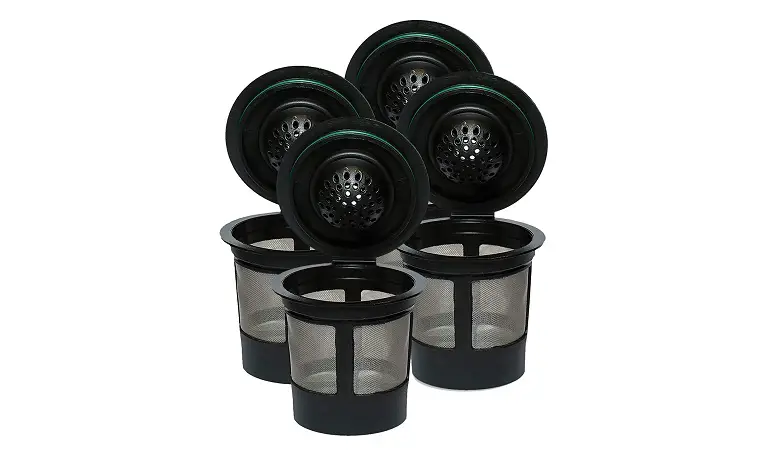 Model: 1.0 and 2.0
Number: 4
Material: Stainless steel mesh
Our pick for the best reusable K cup coffee filter comes from iParts Plus More, with their four-pack of filters that are exceptionally priced.
The filters are made with a stainless steel micromesh filter that allows all of the good stuff to get through without impacting the taste as other plastic filters can. The outer layer is made with BPA free plastic and you can reuse and refill the filter thousands of times before it needs replacing.
According to customers, what made this such a good choice for a K cup filter was that you could use any tea or coffee blend in it for great results.
There's no need to use only Keurig coffee beans, as you can create anything you like, so you're not limited for how to enjoy your daily caffeine hit. The fine stainless steel mesh helped keep the important parts of the coffee beans intact, as the oils and aromas, with no plastic aftertaste.
Although iParts have made a point of listing all of the machines that this filter was compatible with, some people noted that with older machines it was a little harder to make it work, and compact and mini styles weren't compatible either.
If you plan on using an older Keurig with one of these reusable filters, you may want to check the fine print to see whether your machine is going to work, otherwise, it'll be a waste of money.
With four refillable K cups in each package, you'll get years of use out of this one purchase, and save a lot of plastic from ending up in landfills.
The iParts Plus More Reusable K Cups are made with food-grade stainless steel and are dishwasher safe, so cleaning is just as easy as refilling. You can reduce your carbon footprint dramatically with this simple switch, and it's one of the better-priced sets around.
Amazon provides free shipping on your first purchase and free returns from iParts Plus More for your peace of mind. However, judging by the hundreds of happy customers who've already tried these reusable filters, we're sure you'll love this new and eco-friendly way to enjoy your morning brew.
Runner Up: Velibru Reusable K Cup Filters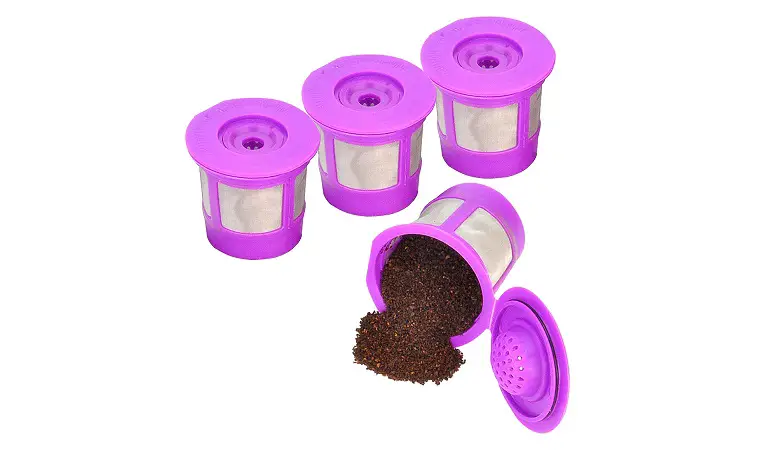 Model: 1.0 and 2.0
Number: 4
Material: Plastic
If you're looking to save some money while you also save the planet, the Velibru Reusable K Cup Filter is one of the most affordable ways to drink coffee.
These filters are made with BPA free plastic but durable enough to withstand everyday use for years to come, and they're so tough that they can be cleaned in the dishwasher as well.
With a bright purple color to help them stand out, this is one of the smartest ways to reduce your carbon footprint without giving up your daily coffee.
The best thing about the Velibru K Cup Filters is that it doesn't take away from the strength of the coffee like some people assume it would, and may even be better than their pods and capsules.
Compared to the paper filters and plastic cups, this is the best reusable K cup for stronger coffee, so if you're someone who prefers a better hit with your caffeinated drinks, you'll be pleasantly surprised.
Although compatible with most Keurig machines, some users found that with the larger ones, their coffee spilled out of the sides.
This is an easy fix, as you just have to use a wider cup to catch it all when it's brewing, but it's a disappointing feature flaw nonetheless. It would be good to see future updates of these cups resolving this issue so making your morning coffee didn't come with such a mess.
This issue aside, there were plenty of cool features worth noting on the Velabro Reusable Coffee Cups, and a surprisingly user-friendly experience for one of the cheaper options on the market.
The cups have been specially designed to fit without any modification on your machine, and they're great for first-time users. They work from Keurig 1.0 and 2.0 machines, and even older models and they'll last for years even with regular use and time spent in the dishwasher.
Although made of plastic, they have no harmful BPA, and you can feel good about using them to create your daily coffee, as well as what impact you're having on the planet.
Velibru offers a 60-day money-back guarantee on their k cups which is amazing to find for something priced so low. Amazon includes free shipping on your first order and the offer of free returns should anything go wrong.
If you want a budget-friendly way to enjoy your morning coffee and want to make sure it's eco-friendly too, the Velibru Reusable K Cups are one of our favorite choices.
Alternative: Yeosen Reusable K Cup Filters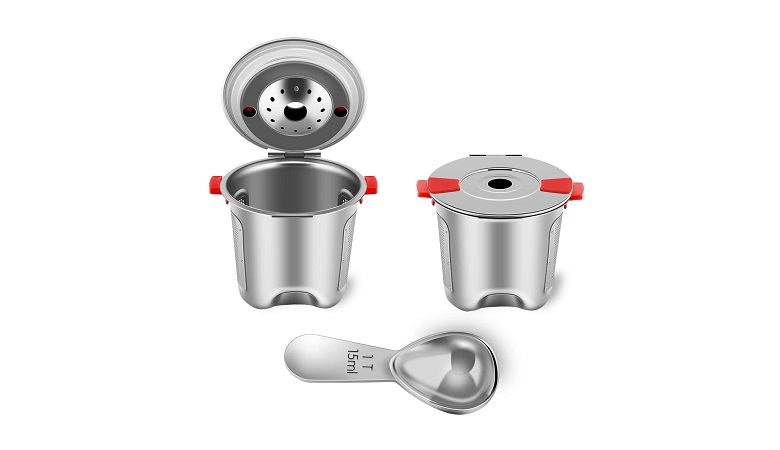 Model: 2.0 and 2.1
Number: 2
Material: Stainless steel
If you want to stay away from any plastic in your eco-friendly coffee journey, the two-pack of stainless steel reusable K cup filters from Yeosen will be right up your alley.
These coffee filters are designed to be compatible with both 2.0 and 1.0 Keurig brewers, including the K200 and K575, and can make between 4oz and 12oz of coffee per use with just the push of a button.
The strength of these K cup reusable filters is the obvious standout that makes it incomparable to others. If you're someone who prefers to shop for durability and you want to make sure that your filter lasts for many years to come, there's no better option.
The durable stainless steel design used on the body and not just the mesh are a gamechanger, and although it's more expensive, it gives you better peace of mind about their longevity.
On the downside, though, for such an expensive reusable K cup, it took a lot of work to get the settings right. Some people discovered there were coffee grounds in their drinks and it took a lot of fiddling to ensure this didn't happen again.
As far as user-friendliness goes, this isn't the best option, so be prepared to have some trial and error and a lot of wasted coffee beans while you figure out how to use it.
This is a safe option for a reusable and refillable K cup filter, as it's made with zero lead, DEHP, and BPA, so you don't have to second guess what you're possibly ingesting. The stainless steel design makes these long-lasting, and they're covered by a lifelong warranty from Yeosen that proves just that.
Thanks to the stainless steel filter that Yeoson has designed, you'll keep all of the natural oils and flavors that come with your coffee beans, and it'll be some of the best tasting coffee you've ever experienced.
Clean up is easy as you can put the filters into the dishwasher and they'll never break down like other brands.
The Yeosen K Cup Reusable Filters come with a lifelong warranty and free returns offered by Amazon, there's nothing to lose but everything to gain. If you want a durable and healthy way to drink your Keurig coffee each day, the Yeosen is one of the best there is.
Alternative: K&J Reusable Filter Cups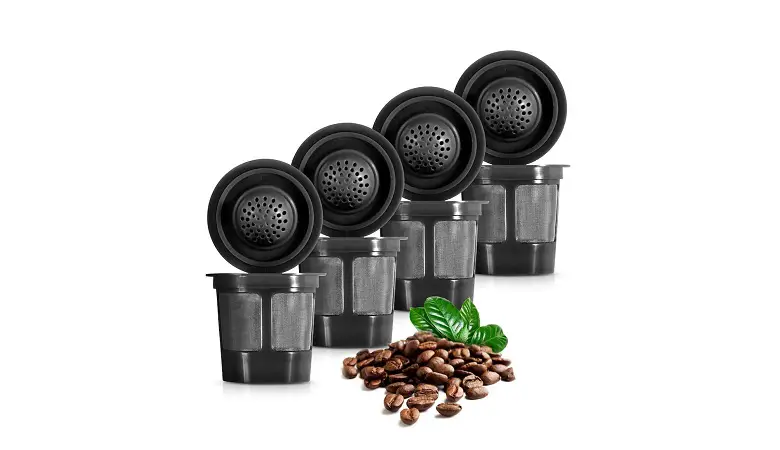 Model: 1.0
Number: 4
Material: Plastic
If you're after the best and most basic reusable K cup filter for your 1.0 model Keurig machine, you'll love the K&J option.
These filters come in a packet of four and are some of the most affordable, made without any special features or fancy add-ons that just aren't needed when you're trying to brew a cup of coffee.
According to their happy customers, the best thing about these filters is that their filter has some of the finest mesh around, with micro-etched stainless steel made to create it.
This means there's minimal chance of getting any coffee grounds or tea leaves into the final product, so you'll get a smooth and enjoyable drink every time.
People have noted that it also doesn't take anything away from the flavor or strength of their coffee either, with some people reporting a more flavorsome taste instead.
What's slightly annoying about these coffee filters is that they're predominately compatible with 1.0 K cup machines.
To use them with your 2.0 model, you'll have to attach an entirely different part, which takes a lot of the convenience out of this type of coffee maker. Therefore, we only recommend it for the original machines and 1.0 models, as it's not the best reusable k cup 2.0 option.
The K&J Reusable Filters Cups are made with BPA free plastic and a fine screen mesh on the bottom and sides. With these filters, you have the option of making either coffee or tea, and it gives you much more freedom than a standard Keurig coffee pod because of it.
K&J has created these reusable filters to have a durable and tight lid seal which means no more blowouts, and there's no need to worry about having spilled coffee when you use their brand.
To get the affordable K&J Reusable Coffee Filters for your 1.0 model machine, head to Amazon for the best price and free shipping and returns offered by the online marketplace. This is the cheapest way to help the planet without sacrificing anything, provided you have the right Keurig machine to make them work.
Alternative: Perfect Pod Café Flow Filter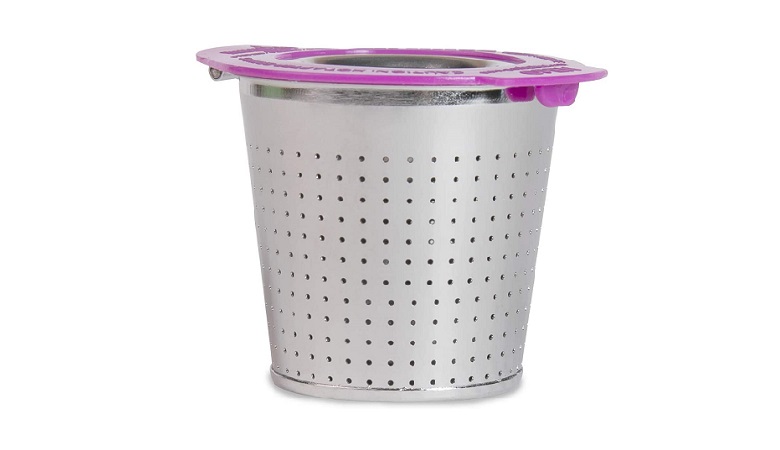 Model: Universal
Number: 1
Material: Stainless steel
When you expect the very best for everything, including your morning coffee, there's no better choice than the Perfect Pod Café Flow Filter.
This reusable filter is a universal design that fits all kinds of machines, and it's made with durable stainless steel in both the body and the filter for the best results.
Made from the trusted Perfect Pod brand, there's no need to second guess whether this is a durable and reliable product that'll serve you well for years.
The coolest thing about this coffee filter is that it's not just good for Keurig machines, and one of the only truly universal styles we've found.
Although expensive, you'll be able to fit your Perfect Pod Café Flow Filter in all types of machines, including Keurig, Breville, Mr. Coffee, and Cuisinart, just to name a few. This means you can travel around with it and never be without exceptional and eco-friendly coffee, even when you're not at home.
However, for such an expensive filter, it needs an upgrade in the filter department. There have been a few users who noticed that some grounds were escaping at the end through the fine holes in the filter, which meant they ended up in their drink.
If this is a dealbreaker for you, you'll want to choose another type of reusable K cup filter, otherwise, you'll put up with it for the longevity and durability of the brand.
Perfect Pod estimates you'll save around 80% of the regular waste and money spent on other disposable coffee filters and cups, so it's a huge impact that you can make with minimal effort.
You can fill it with either coffee or tea and there's no limit to what you can create, giving you far more freedom than a Keurig pod. This filter is compatible with all kinds of Keurigs like the 1.0 and 2.0, as well as mini and compacts, so compared to the other reviews, it fits more than the rest.
To change the way you drink your morning coffee to something more sustainable and durable, the Perfect Pod Café Flow Stainless Steel Filter is the way to go.
It isn't a cheap option but comes with a 100% satisfaction guarantee from the brand and free returns and shipping offered by Amazon. If you want your filter to last for many years to come, the Perfect Pod option is one of the highest quality out there.
The FAQs of Reusable K Cups
Living environmentally friendly means making small changes wherever possible to reduce our impact on the planet, and the way we drink our coffee is something that most of us can easily change.
We've answered some common FAQs about reusable K cups to give you some insight into how they work and why they're such a great choice for living greener.
How To Use A Reusable K Cup?
All types of reusable K cups are different and have instructions on best use, but most of them operate the same way.
To use the K cup, just fill it with your ground coffee beans up to the recommended line, and then put it into the machine where the capsule usually goes. Turn on the coffee maker to your desired drink setting and the machine will do the rest.
Machine Compatibility 
To shop for the right reusable K cup filter, you'll need to use your machine and model number.
Most reusable filters will have a list of compatible machines that they work with so you can be sure you're purchasing one that's going to fit. Some are universal filters that fit in all models, allowing you to use it elsewhere if you need it.
How Much Coffee Do You Put In A Reusable K Cup?
Each reusable K cup will come with guidelines on how to use it correctly, including indicator lines or marks that show you where to fill the coffee.
Place the ground coffee into the reusable filter, sometimes with the option to fill it more to a second line for a double shot, and then it's ready to go into the machine.
What Size Coffee Grind For A Reusable K Cup?
Some reusable filters are made differently and may recommend a certain size of coffee ground for best use.
However, in general, a medium-fine ground is the best approach for K cup machines, as it allows for the best absorption of water in the minimal contact time that it has with the coffee.
How Many Times Can You Use A Reusable K Cup?
A reusable K cup filter lasts up to four years, and sometimes even longer with proper care and maintenance, depending on the quality of it.
When you consider the difference between this and the single-use K cup filters that many machines come with, you can save a whole lot of plastic and energy making this simple switch.
A Greener Way to Wake Up
Although we all want to do our part to help the planet, nobody wants to give up their morning coffee in the process, and thankfully now we don't have to.
Something as simple as making the switch to a reusable K cup filter can save a whole lot of trash from ending up in landfill and have a meaningful difference in how much waste you produce.
Depending on your coffee drinking habits and what Keurig machine you use, you'll likely find that one of these top picks suits you perfectly.
You'll be doing your part for the environment, saving money in the process, and feel good about a simple switch you were able to make that would have a huge impact, so there's no reason not to give them a try.
---