[amazon table="3491″]
One of the best things about living environmentally friendly in 2021 is that there are so many ways you can do it.
Even the smallest change like our bathroom habits can make an impact on our carbon footprint, and with inventions like recycled paper only getting better, there's never been a better time to make a switch.
Recycled toilet paper has undergone a lot of changes in recent years, and it's no longer the rough and miserable alternative it once was. If you're looking to make small switches in your daily life that are eco-friendly, this is one you can do easily without having to sacrifice a thing.
What are the best recycled toilet paper brands out there, though?
There are some leading brands when it comes to the best toilet paper that's also eco-friendly, but ultimately you want something fairly priced, made from sustainable and recycled materials, and comfortable to use.
With all of these boxes ticked, you'll never notice a difference in the bathroom, but the planet certainly will.
If you've already started your search for recycled toilet paper rolls and find the market too overwhelmed with choices, we're here to help.
We've hand-selected the best recycled paper toilet paper that's comfortable, affordable, and makes a true difference to the environment, so you can stop your search and find one that's worthy.
The world of recycled toilet paper is evolving, and just like other eco-friendly products, they only seem to be getting more convenient to use and a lot more affordable, too.
We've weighed up some of the top-performing recycled toilet papers for you to choose from, so you can make this environmentally friendly change without sacrificing a thing.
Best Recycled Toilet Paper – Reviews & Buying guide for 2021
Best Overall: Seventh Generation Bath Tissue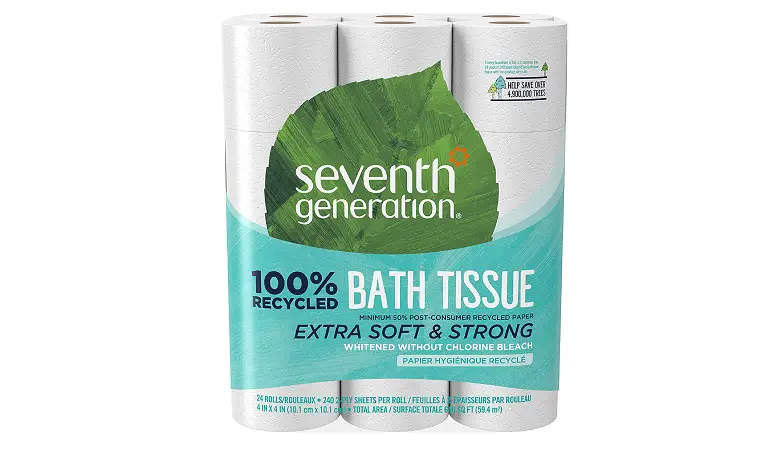 Number: 24
Material: 100% recycled paper
When comfort is your ultimate goal in choosing a recycled toilet paper, Seventh Generation Bath Tissue is our favorite choice.
This toilet paper is made with 100% recycled paper and features no added dyes, inks, or fragrances, so you can be certain it's all-natural and good for your body and the environment.
You'll get a two-pack of 24 rolls with each purchase, and with 48 rolls of recycled paper, there's enough to last for months.
The best thing about this paper is that it's versatile, and can even be used with low flow toilets and dry composts. Thanks to its natural content and softness, it's the best toilet paper for septic use and RVs, which makes it a favorite choice by more types of people.
You can even take it camping and dispose of it somewhere safely, without worrying about whether or not it'll break down.
This is one of the most expensive recycled toilet papers we've found, which has put some people off, but it's also one of the most comfortable.
However, customers didn't like its absorption quality and found they had to use more than usual to get the job done. This can further add to the cost, so it might not be ideal if you're hoping to save money.
The Seventh Generation Bath Tissue is made with 2 ply thickness and has been proven safe for septic and other uses, and with a softness that makes it suitable for the whole family.
The paper is certified by the Rainforest Alliance which means you'll feel good about your choices and be making a real difference with this simple switch.
They guarantee a minimum of 50% recycled post-consumer waste, which is pretty high compared to other brands and a good sign of their reduced impact on the planet.
Seventh Generation has ensured there's nothing artificial in their toilet paper and that it's made with 100% recycled materials, which means much less of a footprint on the planet.
The finish has a pure white color and simple design without relying on chlorine bleach to get the job done, further adding to its natural status, and making it look just like your regular toilet paper but without the environmental impact.
Seventh Generation Bath Tissue this includes 48 rolls with two packs of 24 in each shipment, and free freight direct to your door.
Although a little more expensive, many would argue that the Seventh Generation recycled toilet paper is worth it, so if you want premium quality this is the way to go.
Runner Up: Georgia Pacific Compact Coreless Rolls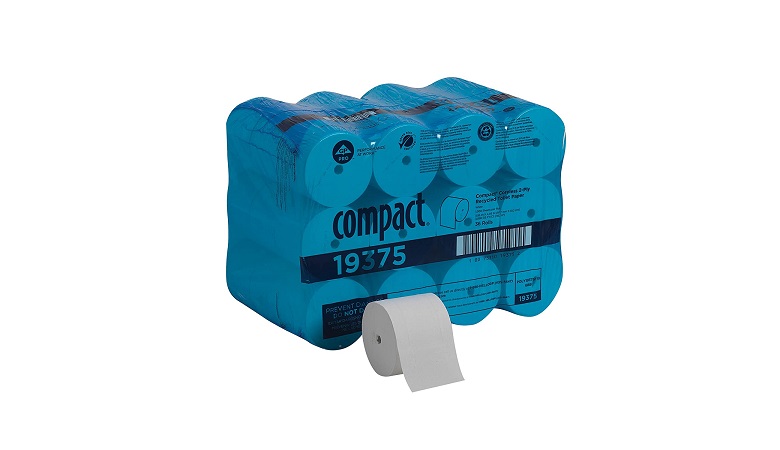 Number: 36 rolls
Material: 100% recycled paper
To ramp up your green habits, you could make the switch to a recycled toilet paper that doesn't even use a cardboard core. Compact Coreless Recycled Toilet Paper is just the one, offering high capacity toilet rolls that ensure minimal waste and mean you only have to replace the roll half as often.
Compact Coreless is a Georgia Pacific Brand, and they've created their toilet paper with at least 25% recycled post-consumer waste, meaning less of an impact on the planet sourcing raw materials.
The best thing about these rolls is that they're coreless, just as the name suggests. This means you won't have to worry about recycling your rolls when they're done, and you save a lot of money, too.
With this design, you use 100% of the toilet paper which means more bang for your buck and reduces how often you have to shop and change over the rolls as well. Better still, you can upgrade to a multiple roll toilet paper holder and only have to fill it up once a month.
Unfortunately, this toilet paper from Compact is not the most comfortable, but you do have the option to upgrade to the Compact Angel Soft product instead, which feels a lot softer and smoother.
You'll also need to fork out some money for the right toilet paper dispensers as your average one at home won't be able to work with the coreless shape, so expect to spend a little extra getting it all setup.
Each roll comes with 1,000 sheets and it's a bulk recycled toilet paper with options as large as 36 rolls in a pack. According to Georgia Pacific, this equates to around 72 rolls of regular toilet paper, so you can see just how eco-friendly the design is.
They also offer a range of dispensers to suit your needs, whether it's commercial or domestic use, so you can get the most out of your toilet paper.
If you want to take your waste reduction to the next level, a coreless toilet paper brand like Compact from Georgia Pacific is the way to go. A 36 pack of the Compact Coreless Toilet Rolls is equates to 36,000 squares of toilet paper plus, so it's a deal you can't pass up if you're looking for a high capacity yet sustainable way to stock your bathroom.
Alternative: Scott Brand Recycled Toilet Paper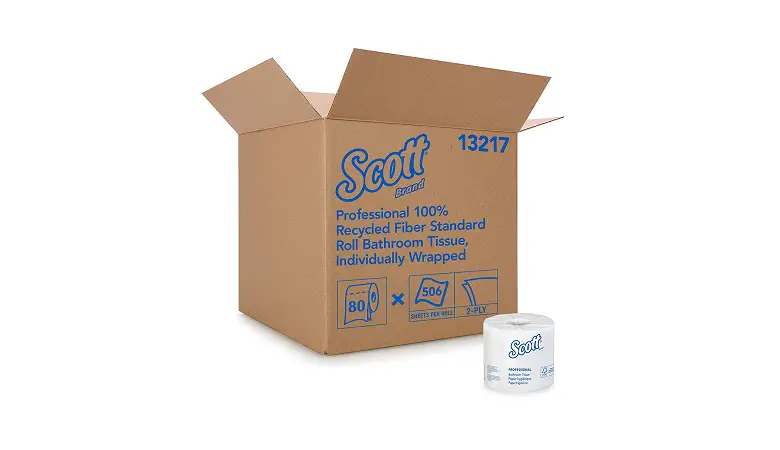 Number: 80 rolls
Material: 100% recycled paper
When you're shopping on a budget and don't need the softest toilet paper around, something like the bulk Scott Brand Recycled Toilet Paper will do you well. This is a bulk packet of 80 rolls of toilet paper, with 506 sheets per roll, and 2 plies of tissues per sheet.
Scott Brand Toilet Paper is made with 100% recycled toilet paper, which means less strain on the planet, and a better feeling from you knowing that you're doing your part.
The best thing about this paper is that it's great value for money, and if you're someone looking for a way to improve your carbon footprint, it's one of the easiest ways to do it without breaking the budget.
For something so cheap, it's also absorbent, and although it's only two plies you'll still find that it goes a long way without having to use excess squares. As far as economic and environmental options go, this is one of the favorites among customers.
However, some people wished it could be a little softer, and due to the thinner nature of the sheets, you might find yourself using more than you'd like to even if it does seem absorbent.
Having an extra ply might have helped with this issue, but it seems a common trend with recycled paper, so it's something most are happy to put up with. For people fussy about what they use in the bathroom though, you might want to spend a little more to get one of the luxury recycled toilet paper options.
As a biodegradable option, this would also be a good RV toilet paper or something to keep a spare of at home or in the office without worrying about the damage it's doing.
With a plain white design, it's simple in its design but comes with the eco-friendly promise that many people look for these days in home products.
Scott gives customers a guarantee that their toilet paper meets the EPA's minimum standards and is certified by EcoLogo and FSC for your peace of mind.
If you're looking for a budget-friendly way to save the planet and don't need the most luxurious toilet paper on the market, the Scott Brand Recycled Toilet Paper is a top pick. With 80 rolls of paper you'll be hard-pressed finding better value anywhere else.
When you shop with Amazon, you'll also benefit from their free shipping, discounted prices, and free return option, so it's the place to get the best deal.
Alternative: Georgia Pacific Envision Recycled Toilet Paper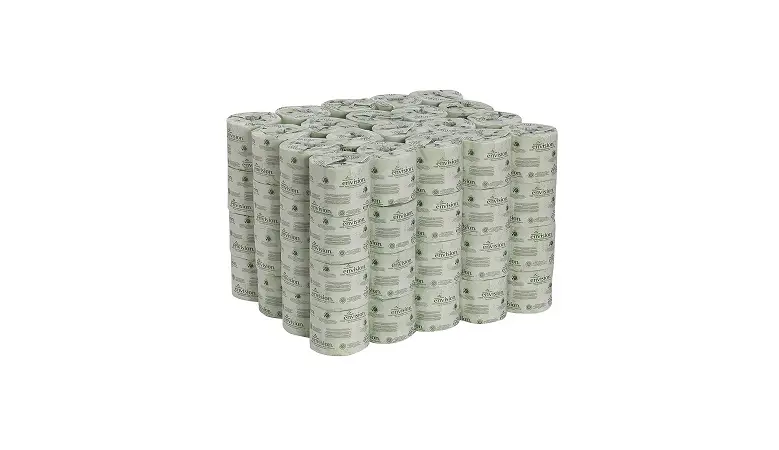 Number: 80 rolls
Material: 100% recycled paper
Georgia Pacific is one of the biggest names in bathroom products and their Envision Recycled Toilet Paper is their budget-friendly entry into the eco-friendly market.
Each roll of their 100% recycled toilet paper features 550 perforated sheets, with each sheet measuring 4 x 4.05 inches, which is a standard size. This budget toilet paper is designed for use in residential, commercial, and office settings, and is an affordable way to make a difference for the planet.
Not only is this one of the cheapest ways to get environmentally friendly and recycled toilet paper, but it's also some of the most versatile.
You can use it in all kinds of settings and each roll is wrapped individually with recycled paper, so you can store it away for a rainy day and find it's still in great condition when you need it.
People have mentioned taking this camping, in their RV, having a spare one in the car, and even using them at home as their regular toilet paper, so the possibilities are endless.
These toilet paper rolls are two-ply, but if you want to save even more money, you can opt for the one-ply instead, also for sale on Amazon.
However, judging by people's remarks on what the two-ply option felt like and how harsh it could be after repeated use, these would probably only be good for an emergency backup supply of toilet paper.
This isn't a luxurious option if you want green toilet paper, so it might not be ideal for those who are sensitive with their bathroom habits.
Georgia Pacific's Envision Recycled Paper features around 20% post-consumer waste paper, which is a bit less than other brands, but still admirable.
Even though only 20% is post-consumer waste, it's still 100% recyclable, so when it comes to greener toilet paper goes, it's one of the better options.
The sheets are perforated and come with a simple white design, and as far as looks go, nobody will be able to tell the difference between this and other non-recycled toilet paper brands.
If you want to shop green on a budget, the Georgia Pacific Envision Recycled Toilet Paper is their cheapest option. Amazon lists a box of 80 rolls with around 550 sheets per roll.
Amazon will also ship them to your door for free, further saving you a lot of money, and making these a great choice for people who want to shop economically and environmentally friendly.
Alternative: Seventh Generation 1-ply Recycled Bathroom Tissue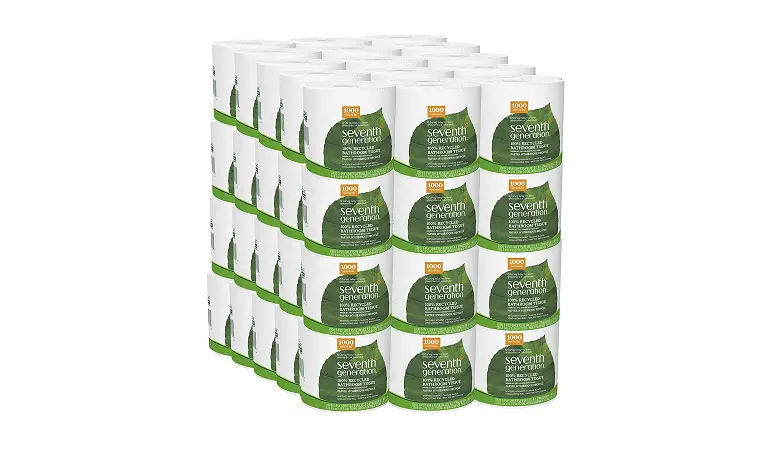 Number: 60 rolls
Material: 100% recycled paper
Seventh Generation makes a range of green alternative recycled toilet papers, and their one-ply recycled bathroom tissue is a best seller.
Each package comes with 60 wrapped toilet paper rolls, so you can use them anywhere, and all made with 100 percent recycled toilet paper for a more environmentally friendly option.
Seventh Generation promises that no dyes, fragrances, or inks have been used to make their bathroom tissue, so it's a truly natural alternative to supermarket brands.
The best thing about this toilet paper is how recyclable it is, with a commitment to making as little of an impact on the earth as possible.
There's no dyes or bleach used, the paper is made with more post-consumer paper waste than other brands, and it's fully biodegradable and compostable as well.
Although the toilet paper itself isn't rough, it is very thin, and with just one ply of thickness, this might not be ideal for everyone. You'll likely have to double up on what you'd usually use, so it makes sense to spend a little more to get a two-ply option instead.
Depending on your bathroom habits and how you use your toilet paper, this could be a dealbreaker for you or not a big deal at all.
Each roll of this toilet paper comes with 1,000 squares, so it does last a lot longer compared to a two-ply style.
Seventh Generation assures its customers that their tissue is safe for all types of toilet setups, including septic, RVs, low flow setups, compost toilets, and residential and commercial bathrooms.
Each square measures 4.6 x 4.6 inches and comes with a white floral design, created without the use of chlorine bleach, so you can feel safe using it for yourself and your family.
As one of the more expensive options for recycled bathroom tissue, you can expect to spend around $85 for 60 rolls on Amazon, plus free shipping. However, each roll comes with 1000 sheets which are roughly double what other brands offer.
Seventh Generation also gives customers the option to subscribe and get deliveries without having to renew purchases, which ends up saving a further 15 percent from your toilet paper costs. If you plan on using it in the future, this is a great way to save money while saving the planet as well.
Recycled Toilet Paper FAQs
The times are changing for recycled toilet paper, and its makers have made sure that it's no longer the rough and expensive product that it once was.
If you want to learn more about this revolutionary and green alternative for the bathroom, check out the answers to some FAQs that can give you the basics.
Is Recycled Toilet Paper Safe To Use?
Although there has been some hesitation in the past to use recycled paper, there's no longer the fear of anything unsafe in it.
According to a recent study, there were minor traces of BPA in some recycled paper products like toilet paper, due to the thermal receipt paper content, so many brands are ensuring not to have this in their product.
Is Recycled Toilet Paper Better?
Recycled toilet paper is the better option if you're looking to reduce your carbon footprint and choose something greener.
This toilet paper uses recycled paper to produce it, which means less energy and water spent creating them from raw materials, and a more environmentally friendly option overall.
What Is Recycled Toilet Paper Made From?
Depending on the brand and its production methods, most recycled toilet paper is made from consumer waste that has been recycled.
This includes things like office paper and old books that have been shredded and made into a pulp and then pressed to create the new and recycled toilet paper.
Is Recycled Toilet Paper Biodegradable?
All recycled toilet papers are made differently, but the majority of them are all biodegradable which means they break down faster than regular toilet paper.
The materials used to make these types of papers are easy to break down, and can even do so in a backyard compost pile, so you don't have to worry about them sticking around in landfills or the ocean for years to come.
Is Bamboo Toilet Paper Better Than Recycled?
There are varying brands and types of paper, so it depends on the individual one as to which is better.
Some argue that bamboo toilet paper is the softer option, whereas recycled paper is more environmentally friendly. Depending on your preference for toilet paper, either would make a good and green choice.
Bathroom Habits That Are Good for the Planet
There are so many daily habits that we can change to do our part for the planet, and the products we use in our household bathroom is a major one.
If you've been hesitant to make the switch to recycled toilet paper because of its bad reputation as a rough and uncomfortable alternative, you'll be pleased to know things are changing, as evident by these brands we've reviewed.
Considering how often the average person uses the bathroom each day and will continue to for the rest of their lives, choosing recycled toilet paper can make a huge difference in your waste and energy output.
Any of these brands we've reviewed offer a simple, affordable, and green way to use the bathroom, all without sacrificing comfort.
---