Table could not be displayed.
When your goal is a comfortable home that feels good no matter the season or weather outside, insulation becomes one of your main focuses.
Unlike installing heating and cooling systems that chew a lot of energy, the right insulation choices in the home can reduce your reliance on them, and help you live greener and cleaner.
One of the biggest problem areas for insulation comes from the garage, as an area that's relatively unused but capable of letting in a lot of cold and hot weather when it's not wanted.
With a simple fix of garage door insulation, you'll reduce your need for heating and cooling units inside the house, and make this part of your home more comfortable and livable for other uses besides the car.
What are the best garage door insulation options out there, though?
There are two schools of thought for garage door insulation, including a comprehensive kit that does it all or a single-use type of insulation like foam. Depending on the size of your garage, the climate, and other specifics unique to your home, you'll likely find one is better suited than the other.
If you've been waiting for the chance to fix your home's insulation, this is the guide for you.
We'll help you reduce energy costs from HVAC systems, keep your home at the right temperature, and allow you to use this space of the home comfortable with our picks for the best garage door insulation kits and materials.
Rather than scouring through hundreds of the best garage door insulation kit reviews, we've done the hard work for you, and come up with a definitive list of the best on the market.
With our selections, you'll have the easiest and most affordable way to insulate your home, starting with the garage, and reap the benefits straight away.
Best Garage Door Insulation – Reviews & Buying guide for 2020
Winner: US Energy Products NASA Tech Foam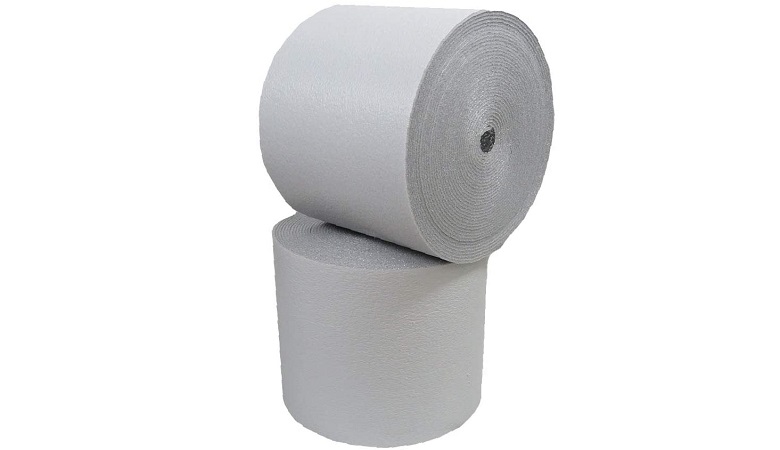 Type: Double garage
Material: Foam, foil
Our choice for the best insulation for garage door spaces is the NASA Tech Foam from US Energy Products.
This is a simple kit you can use for the best garage door insulation for heat and cold and includes heavy-duty tape that will withstand any temperature. The NASA Tech Foam Core fits a two-car garage door and measures 18 feet wide by eight feet high.
The best thing about this insulating foam is how well it works, and for the price, this was surprising to some.
Those using it in winter noted around 10 degrees difference in the garage, and the people installing it during summer had a much cooler garage to work or exercise in. Considering how cheap and easy it was, seeing this much difference with just one product it's amazing for your energy bills.
However, some people found that when purchasing more than one set from US Energy Products, the colors and material seemed different with each batch that they got.
If you're hoping to do more areas of your home than just one garage, be prepared to use a product that seems completely unique. This was disappointing to some as it didn't match up, and if you prefer an even effect, you might not get it.
The NASA Tech Foam Core Garage Door Insulation Kit comes with everything you need to install it on a double door garage, and with minimal tools.
In this kit, you'll get their heavy-duty double-sided tape, four rolls of white foal and foam core insulation, a squeegee, razor, and detailed instructions to get the job done. It takes less than an hour to install, even if you're new to the process, and can be completed by anyone with some basic skills.
All of the US Energy Products range is made in the USA and their NASA Tech Reflective Foam Core Insulation meets the US and international fire codes for your peace of mind and safety.
As well as improving the R-value of the garage, it'll also provide a sound barrier, so no matter what you do in your garage you'll be able to enjoy it comfortably and quietly.
To equip your garage with the best garage door insulation material for both hot and cold temperatures, head to Amazon to get this one from US Energy Products.
The NASA Tech Foam Core Garage Door Insulation Kit costs just over $110 which includes free shipping and free returns offered by Amazon, and it'll last for years in your home and reduce your reliance on heating and cooling significantly.
Runner Up: Ant Enterprises Reflective Foam Core Foil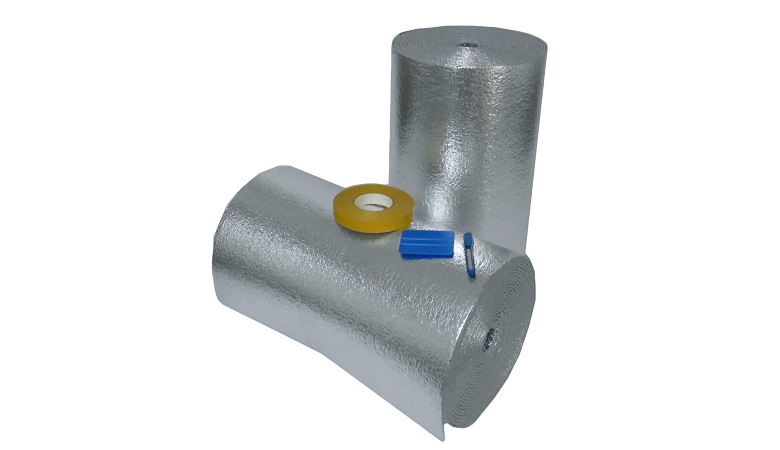 Type: Double garage
Material: Foil, foam
Ant Enterprises Reflective Foam Core Foil is one of our top picks for those who don't need the best garage door insulation kit, but just the standalone material to do the job themselves.
Including four rolls of double-sided foil foam core material, you'll have enough to cover a standard double car garage, and then some. This foil is suitable for sizes 16×7, 16×8, 17×7, 17×8, 18×7, and 18×8 feet, but you'll have to provide your own tools and do some work cutting it down to size.
The best thing about this reflective foam core foil is its quality, and this is evident when you first unpackage it.
People were thrilled to find how thick and durable it was and even noted that the material was waterproof, which is good for those living in wet areas or places where humidity is a problem. For such a cheap product, using a quality insulation material like this is a welcome surprise.
On the negative side, this is just the foam core material and doesn't come with anything else you'll need to install it. Although there are instructions to get the job done, it takes longer than others on the market, so this has lost the Ant Enterprises product some points.
If you're not comfortable with DIY jobs this especially won't be right for you, and you should consider purchasing a complete kit that has everything you need.
The Ant Enterprises Reflective Foam Core Foil is a great choice for all types of weather and is made with a long-lasting ¼ foam core material for durability which is good news for those in hot climates.
Ant Enterprises makes and ships all of their products from the US, so if choosing something locally made is important to you, this is a brand you can trust.
Included with this purchase are four rolls of 18 feet long double-sided foil foam core material, measuring 24 inches each. The R-value of the sheets is 8.5 and when cut down to size, it can fit most sizes of garages and even additional areas you might want to cover to ensure temperatures are maintained.
Ant Enterprises Reflective Foam Core Foil is the best garage door insulation material for those who don't mind a bit of extra work.
Amazon will ship the insulation materials to your door for free and offer a free returns policy should there be any issues. If you want economical and durable insulation for your home garage, the Ant Enterprises Foam Core Foil is a great way to get it.
Alternative: US Energy Products NASA Tech Insulation Kit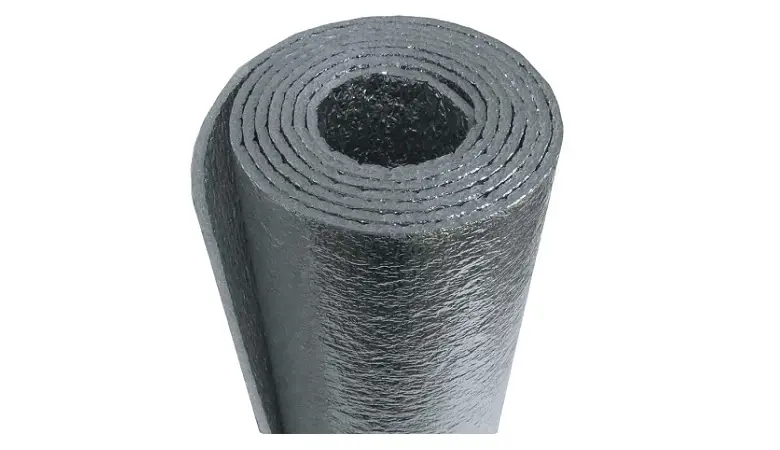 Type: Double garage
Material: Foam, foil
US Energy Products has released their new and improved NASA Tech Insulation Kit to the market, with an upgraded construction of 5/16" thick foam core insulation used instead and a promise to deliver a more natural product.
This is the thickest reflective foam core insulation on the market and ideal for those needing protection from the heat and cold, being just as effective at maintaining temperatures in both and reducing your reliance on HVAC units.
This upgraded version of the US Energy Products NASA Tech Insulation Kit comes with some features that customers preferred, like the new clean look and minimal use of chemicals and toxins.
This kit doesn't feature any carcinogenic products, fiberglass, or anything else unnatural that you have to worry about, so would please people looking for more eco-friendly insulation.
Although this was meant to be the upgraded version, most people preferred the old type. Some customers found that the newer variety, although made with more natural materials, didn't have as much insulation properties as the original.
Both claim to have an R-value of 8, but the older model seems to do it better, so if you live in climates with extreme temperatures, you might want to stick to the original.
Within the US Energy Products NASA Tech Insulation Kit, you'll get their super duty double-sided foam tape, squeegee, razor, foam core insulation, and instructions.
Known as one of the easiest garage door insulation kits on the market, nothing has changed here, and people were thrilled that they could install it in under an hour.
The insulation materials are two rolls of 18ft x 24 inches reflective foam core, measuring 5/16″ thick. Compared to other kits with just ¼ inch thickness, they have a noticeable difference when you touch them and are built to last.
Once installed, they provide a clean and finished surface that improves the look of your garage, all the while making your home more eco-friendly.
To install the new and thicker US Energy Product NASA Tech Insulation Kit in your home garage, head to Amazon for the best price. If you want the easiest way to insulate your garage and want a more natural approach, the NASA Tech Insulation Kit is a great option.
Best Garage Door Insulation Kit: Owens Corning Garage Door Insulation Kit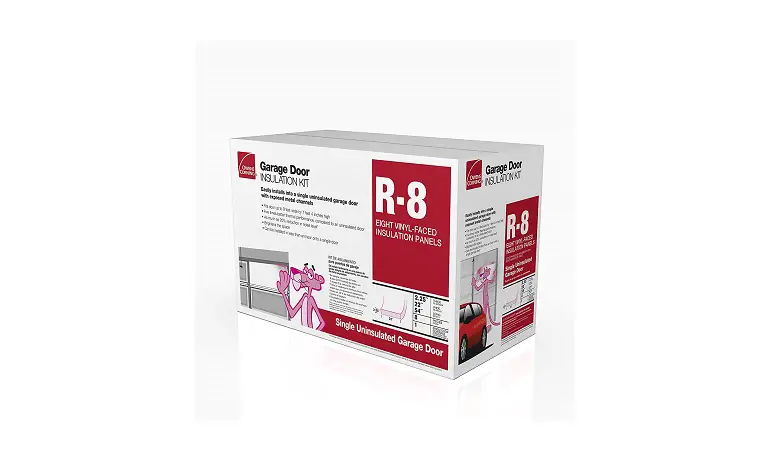 Type: Single garage
Material: Vinyl faced panels
If you'd prefer a more customized approach to insulating your garage door, the Owens Corning Kit might be up your alley.
This kit includes vinyl faced panels that you can stick on for quality insulation, and without having to plaster the entire garage door with materials. Each kit comes with eight panels measuring 22 x 54 inches and is enough to cover a single garage door completely.
According to customers, the ease of installation was what set this apart from the rest. Owens Corning assures you that it'll take less than an hour to do, and they were correct, with the only tools needed to get the job done being a tape measure, knife, and marker.
For those who are apprehensive about performing their garage insulation, you don't need to be with this kit.
However, you may need to purchase some extra supplies to get it installed. Considering the higher price of this kit and the fact that it only covers a single garage door, having to go out and buy more Gorilla tape just to get it stuck correctly wasn't something people wanted to do.
For the cost, Owens Corning will need to ensure they include everything in their future kits, otherwise, customers will continue to be disappointed.
The Owens Corning Garage Door Insulation Kit provides up to five times better thermal performance compared to your previous uninsulated garage, which means less use of your HVAC units.
According to the brand, these panels also reduce sound by up to 20 percent from the outside. If you're hoping to make your garage more comfortable to work out in or enjoy recreationally, this is a bonus that'll sweeten the deal.
This kit features a cleanable vinyl surface that can be easily wiped down as you need, and it's made with flexible materials that won't be damaged by your car. Suitable for all types of metal garage doors and with the ability to stick the panels as you need them, it's good for those needing custom insulation.
If your garage is in need of insulation and you want an easy to use kit, the Owens Corning Garage Door Insulation Kit is the way to go.
Amazon will ship the panels to your door and all you have to do is stick them on, making it one of the easiest ways to reduce your energy output at home and make your garage a lot more comfortable.
Runner Up: Reach Barrier Garage Door Insulation Kit
Type: Single door garage
Material: Acrylic adhesive, bubble insulation
When you don't need a lot of insulation and want to save some money in the process, the Reach Barrier Garage Door Insulation Kit is the way to go.
This reasonably priced kit includes enough panels to cover a single car garage door, and each panel features two layers of 5/32" barrier bubble in between two layers of their radiant barrier. With everything you need for an easy installation, the Reach Barrier is one of the simplest to use.
Customers loved how easy this was to install thanks to the peel-off panels, and the fact that it stays in place for years to come without maintenance.
For a hands-off type of insulation and one you can easily install in an afternoon, Reach Barrier is one of the best, while still delivering a noticeable difference in your garage temperatures.
This isn't the most insulating of all the products we've reviewed though, and would better suit homes that don't live in extreme climates because it's a thinner type of panel.
According to customers, it wasn't as effective as others on the market, and if you live somewhere that relies on a lot of heating and cooling to stay comfortable, it's probably not the best choice.
The Reach Barrier Garage Door Insulation Kit meets and exceeds the US and international fire codes, and gives you peace of mind that your household will be protected.
There are eight panels in each kit and they've been pre-cut so there's no need to do anything. Also included are 48 Stick'ems measuring 1 x 1 inch so you can use these simple acrylic adhesive squares to apply the insulation to your garage.
As this has enough insulating squares to cover just a single door garage, you will need to purchase a second set to do a larger space.
Reach Barrier has designed these squares to block up to 95 percent of radiant heat, so not only does it keep hot temperatures out, but keeps conditions warmer in winter when it usually escapes.
The Reach Barrier Garage Door Insulation Kit is one of the cheapest on the market.
Even if you need to cover a double door garage, you'll still find it the most cost-effective, and the easiest to apply. Amazon has the lowest price on these insulating panels, and offers free delivery as well, making it easier than ever to keep energy costs low at home.
FAQs of Garage Door Insulation
Insulation is one of the greenest ways to cut energy costs at home, as it reduces your need for traditional heating and cooling systems by keeping your household at a comfortable temperature.
If you've been considering insulating your garage door, we've got the answers that can help you out, so check out our expert advice.
Does Insulating A Garage Door Make A Difference?
If you live somewhere with a particularly hot or cold climate, ensuring all areas of the home are insulated can make a difference in energy costs.
For this to work, you need to insulate the garage door as well as the internal walls, otherwise, the air will still escape and enter where you don't want it to.
How Do I Insulate My Garage Door To Keep The Heat Or Cold Out?
To insulate a garage door there are some basic options like foam that can be cut to size or a comprehensive insulation kit can be purchased.
This is an easy enough job that you can do yourself at home and with good results that can reduce your reliance on traditional heating and cooling units.
What Is The Cheapest Way To Insulate A Garage Door?
There are some good affordable options for garage door insulation, including complete kits or single materials like foam that cost less than a couple of hundred dollars.
To perform the job yourself, you can do it at home for a reduced cost, but you must ensure that you're targeting any areas where heat or cold could escape or enter the garage for it to be effective.
Should You Insulate An Unheated Garage?
Regardless of whether your garage has been heated or remains unheated, you can still notice a dramatic difference when insulating.
A basic level of insulation that you can install at home will allow for around 40 degrees of temperature difference in either hot or cold conditions, which is true for unheated spaces as well.
The Right Insulation to Reduce Your Home's Energy Use
The average household garage is responsible for letting in a large amount of heat or cool, depending on the climate, and without correct insulation, it can be one of the biggest offenders for energy use.
The simple act of installing insulation can have a dramatic impact on your home, and the environment with it, as well as being one of the most affordable.
With our hand-selected picks for garage insulation, you'll be able to cut energy costs and bring some comfort back to the home, all the while knowing you're doing your part for the planet.
Whether you want to go with the complete insulation kit or something simpler, there are some great options here to make bring temperatures back to normal in your house.
---