[amazon table="3325″]
When you're trying to be environmentally conscious, every little bit helps.
If you're not ready to take the huge leap to a no-waste lifestyle, taking steps to reduce or waste or switching to an eco-friendly trash bag is the next best thing.
Reusable recycling bags for trash cans and general waste bags are some of the latest products in the green living market, and they present an easy way to make a huge difference to the planet.
With so many options out there and terms like 'biodegradable' and 'compostable' to work through, it can get overwhelming.
What are the best eco-friendly trash bags to choose?
The three main types of bags are compostable, biodegradable, and reusable, each offering something unique. Depending on the goal you're after, the amount of waste your household makes, and what you do with it, there's likely to be a bag that's the perfect fit.
We've handpicked the best trash bags for the environment in every category, allowing you to find the top-rated in the market that will help you live at your greenest.
With our recommendations, you'll find the best of the best and the latest designs, so check out the suggestions we have for the modern eco-friendly home.
The best trash bags for environment-conscious folks come in all shapes and sizes, and we've chosen just a few to make our list. There are compostable, reusable, and biodegradable bags, so you can find the perfect fit for your household's green waste goals.
Best Eco Friendly Trash Bags – Reviews & Buying guide for 2020
Best Compostable Trash Bags: Unni Compostable Bags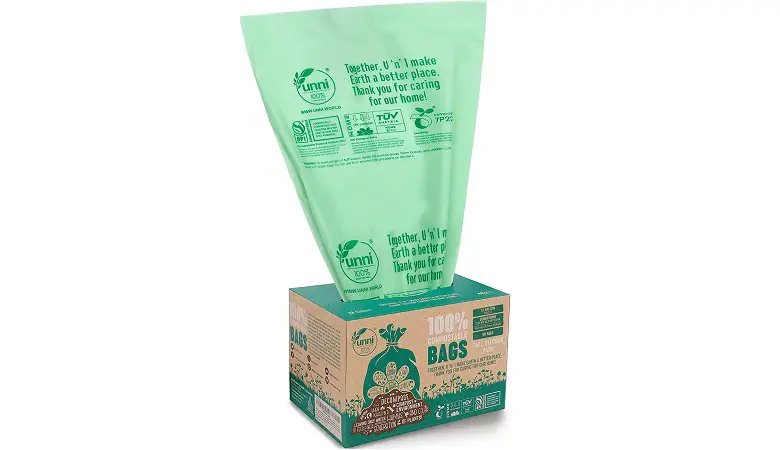 Size: 23.75 x 31.49 inches
Type: Compostable
Volume: 13 gallon
Number: 50
If you want to do the most you can for the planet, the Unni Compostable Bags are one of our favorites. These are certified compostable bags in both US and Europe and are guaranteed to be 100% biodegradable which means they'll even break down in your home composting setup.
The size of the Unni bags are 23.75 x 31.49 inches, which suits a larger size of bin, and with roughly 13 gallons of room for trash inside.
According to customers, the best thing about these bags from Unni is that they break down before your eyes, so you don't have to second guess whether they're doing the job.
People found that leaving their trash to sit for a few days meant they could see the bags start to decompose, so it gets you into the habit of taking it out more regularly. If you're paying for a truly biodegradable bag, you will get your money's worth with these from Unni.
On the negative side of things, they don't stack up well with heat, so you need to avoid putting anything hot in them, even leftovers from dinner.
Keep the trash stored away from direct sunlight or they can start to decompose, and don't use them with any long term plans of storing your junk at home. Something a little stronger would have been better, but it could also detract from their biodegradability, so it's the price you pay for this type of product.
The Unni Compostable Trash Bags are made with the highest biobased content of bags, and all of their products are made with plant starches so there's no fear of any plastics or polyethylene to be found.
The bags are nontoxic, family-friendly, and can go safely and easily into your home composting system to be broken down without a fuss.
Unni recommends buying only enough bags to last around nine months, as they can start to use their decomposing powers in that time.
The bags hold around 13 gallons, but this doesn't account for the pinched off the bottom of the bag, nor the fact that you have to tie the top yourself, so keep this in mind if you're shopping for a larger size. 
To equip your home with the most earth-friendly trash bags around, the Unni Compostable Trash Bags are the way to go. It makes sense to buy in bulk and save even more money, so shopping with Amazon is recommended.
Unni has made it simple to do your part for the planet, and with a truly degradable bag that you can feel good about using.
Runner Up: Ayotee Compostable Trash Bags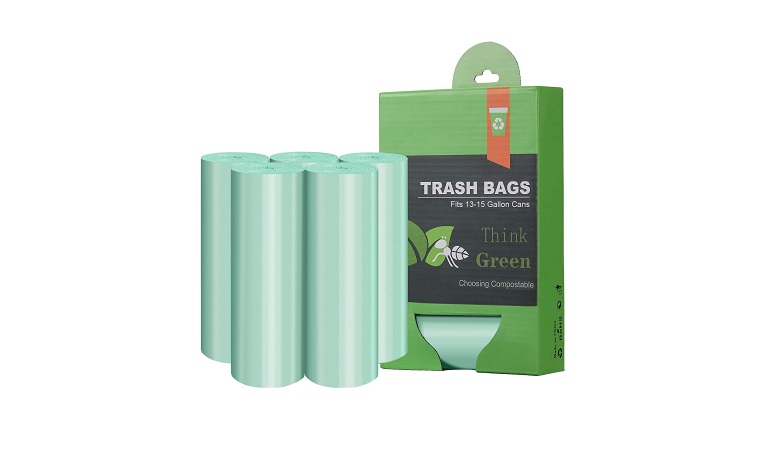 Size: 23.6 x 31.5 inches
Type: Compostable
Volume: 15 gallons
Number: 60
Another top contender for the best compostable trash bags comes from Ayotee, with their earth-friendly alternative made from natural and renewable extracts.
The Ayotee Compostable Trash Bags come in a packet of 60, with four rolls of 15 packaged together so you don't expose them to the elements too soon. These bags fit around a 15-gallon trash can and give around 13 gallons of room to use, so they're one of the larger options out there.
The best thing about these trash bags is that they're packaged with the customer in mind.
As discussed, they're separated into four different packages so you don't have to get them all out at once, as we know some biodegradable bags come across problems when exposed to heat and moisture.
They seem thick and durable as well, so there's no need to fear them breaking down before you have a chance to throw them out.
On the downside though, don't put anything too heavy in the bags as they won't do a good job of holding them.
Their 15-gallon size is good for lighter objects in the home and office, but with a thickness of around 1.18 millimeters you'll notice a huge difference between these and your regular trash bags, so they can't be stuffed full of heavy items like you used to do.
The Ayotee Compostable Trash Bags are made with plastarch material and meet the US standards, so you can feel good about ditching the plastic and using only natural ingredients in your trash bags.
This is an easy way to switch to a greener way of living that won't have a negative impact, and they can even be used for throwing out kitty litter or collecting your dog's mess up when you take them for a walk.
The measurements of the Ayotee bags are 23.6 x 31.5 inches which makes them a good size for most household trashcans. Designed to fit around 10 to 15 gallons inside, they have more than enough room, but you'll need to make space at the top to tie them up.
The bags are unscented but still do a good job of retaining the nasty scents and aromas that come wafting from the household trash can and are the best trash bags for odor problems.
If you want to make a switch to a more eco-friendly way of living, the Ayotee Compostable Bags are a brilliant choice.
These bags from Ayotee are ideal for home composting and reducing your impact on the planet, making them one of the easiest ways you can make a real difference without causing any inconvenience to yourself.
Best Biodegradable Trash Bags: Ayotee Biodegradable Small Trash Bags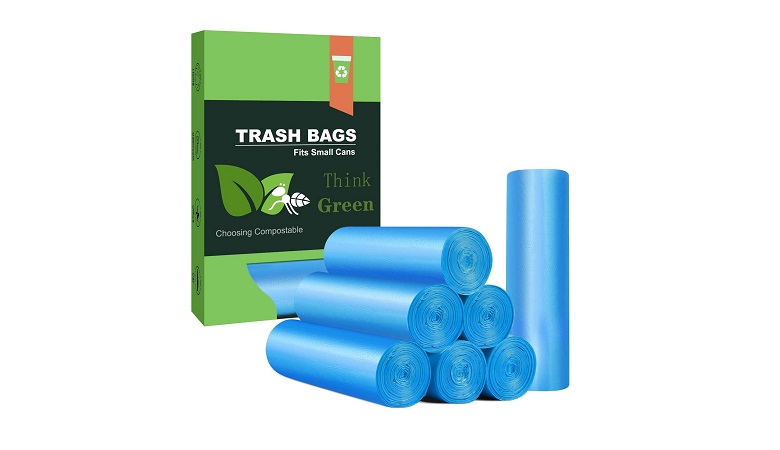 Size: 21.6 x 18.5 inches
Type: Biodegradable
Volume: 4 gallons
Number: 100
When a biodegradable bag is on your wish list, the top performer comes from Ayotee, with their four-gallon bags.
These biodegradable bags can't be thrown in the home compost system as easily, but they do break down a lot easier than plastic bags thanks to their plastarch materials.
Ayotee has received certification from the Biodegradable Product Institute for these trash bags, and it's one simple purchase you can make that will help the planet.
According to customers, these bags are the perfect size for most households and offices, with many people stating that the larger bags were only wasted.
They can encourage you to compost directly to a bin, and reduce the amount of waste in the home, with the four-gallon size being more than enough for one day of use with your regular household.
However, as a smaller bag and one made without any scents or smelling properties, they don't do a great job of masking the trash aromas.
These would be a better fit as an office bag or one that didn't take a lot of wet or offensive smelling trash, otherwise, you'll want to empty them quite regularly so you don't end up catching the odors.
If you're looking for the best biodegradable trash bags 13 gallons in size, these won't do, and they're quite small when you look at them.
However, for people only needing a smaller bag, they have enough space and measure roughly 21.6 x 18.5 inches in size. There's a unique octagonal design on the bottom of the bag that gives them more room than a standard four-gallon bag, and this is a welcome feature.
The Ayotee Biodegradable Trash Bags come in a box dispenser that can even be fastened to the wall, giving you fast and easy access whenever you need one.
Because of their small size, they're great for keeping in the car or taking on picnics so you can keep all of your trash together and the planet clean. They hold a maximum weight of 11lbs and are made with tougher materials which means they're able to carry more than most compostable bags.
To save more, you can purchase a few at a time and get free shipping to your home, and because they're not compostable you don't have to worry about them wearing down over time.
If you want quality, smaller biodegradable trash bags, these from Ayotee are our first pick and an easy way to do your part for the planet.
Runner Up: Inwaysin Biodegradable Trash Bags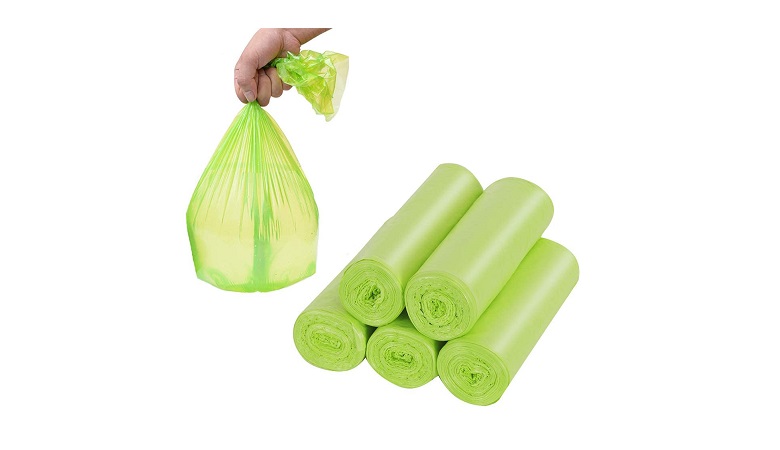 Size: 19.7 x 23.6 inches
Type: Biodegradable
Volume: 4 gallon
Number: 100
If you're after a more affordable way to save the planet, these biodegradable bags from Inwaysin can help you do it. With 100 small bags in each package, they're one of the cheaper alternatives and have enough space to fit four gallons of trash inside.
Measuring 19.7 x 23.6 inches you'll find they're even larger than most with this volume, even when you account for having to tie them up the top.
The best thing about these bags, other than their price, is that they manage to mask the smells quite well. Although they're unscented and it can be hard to find a bag like this that doesn't end up wafting the smell of trash through the home, they're surprisingly good at keeping it covered up.
However, on the negative side of things, they're not the most durable bags and probably aren't capable of holding heavier loads, which is disappointing for a biodegradable bag.
Even though they're smaller in size they should still be able to hold a decent amount of trash, so it's best to leave these to lightweight things, picking up after your dog, or being used in an office environment.
According to Inwaysin, these bags can hold 5lbs of trash, but it's best to leave it a little lighter just to be safe.
These garbage bags are made with non-toxic materials and don't have any odors, so you won't even smell them sitting there, and won't notice about artificial scents that most kitchen trash bags come with, giving most people a headache who smell them.
They fit a standard 4-6 gallon trash can which makes them ideal for home and the office and have a unique design that allows you to get the most out of their space.
As a multifunctional bag, they can be used for everything including baby diapers, pet litter, trips in the car, taking along on a picnic, or whatever you need them for.
The Inwaysin Biodegradable Garbage Bags are the right size for many things in life and reasonably priced at around $11 for a 100 pack from Amazon.
To benefit from their free shipping, you'll need to purchase three units of these bags, but you won't need to buy any more for a whole year and would be doing something amazing for the health of the planet.
Best Reusable Trash Bag: Planet Wise Reusable Trash Bag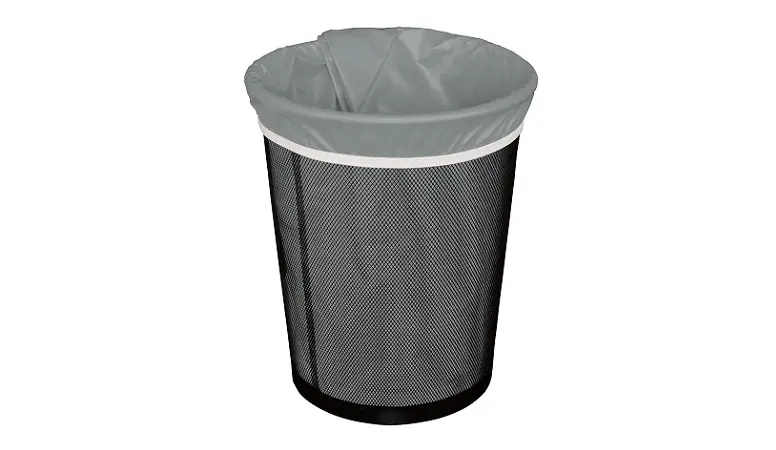 Size: 24 – 38" (opening)
Type: Reusable
Volume: 5 gallons
Number: 1
Reusable trash bags are a gamechanger when it comes to waste, and if you're interested in these types of bags, the Planet Wise ones are our favorite.
These bags are washable, waterproof, and reusable, so they do a lot more than your regular household trash bag, and all the while being eco-friendly as well. With five gallons of volume in each one, it's enough to store your household waste for a day or last even longer at the office.
According to the happy customers who purchased these bags, they're surprisingly easy to keep clean and do a good job of masking odors.
Some people might assume that having a reusable trash bag might make more of a mess when it comes to throwing things away and keeping the area clean, but they have a high-quality liner that keeps everything in place.
On the negative side of things, they're an expensive option, and just one bag costs around the same as 100 pack of compostable trash bags. If you're prepared to put in the effort emptying and cleaning them, they take a lot less of a toll on the planet, but in saying that, you'll be paying a lot more to do so.
The Planet Wise Reusable Trash Bags come in a range of colors including slate, pink, and plum, and even some with dinosaur and floral designs to keep your kids engaged and doing their part for the earth.
They're expertly sewn with hidden seams and are durable enough to carry a whole lot of trash without buckling, which is a nice feature to have when you consider other compostable bags' weaknesses.
Planet Wise makes all of its products in the USA and uses only the highest quality materials, with everything being free from lead, BPA, and PVC.
The inner liner of the bags has antimicrobial properties and will keep trash inside and free from nasty odors. When it's time to empty them, pull the bag out, and then throw them into the washing machine and then hang them out to dry before using them again.
If you want to make a real difference to the planet and don't mind putting in some extra work yourself, the Planet Wis Reusable Trash Bags are an innovative way to do it.
They're more expensive, but a great way to ensure you bring your plastic use down and think hard and long about how much waste your household makes.
Eco-Friendly Trash Bags FAQ
The eco-friendly trash bag movement is gaining momentum, with people making minor changes like this to have a big impact on the earth.
If you've been considering switching to a greener alternative for your waste bags at home, we've got the answers to some commonly asked questions that can get you on the right track.
Do Environmentally Friendly Trash Bags Really Exist?
Yes, there are now trash bags that are environmentally friendly, and a smarter choice for people looking to reduce their footprint on the planet.
These bags include biodegradable, reusable, and compostable types, designed to break down easier so that they have less of a negative effect on the earth.
Are Biodegradable Bags Better Than Plastic?
A biodegradable bag is a better choice than a plastic bag when you are trying to have an environmentally friendly approach to living, however, they are usually made of some type of plastic still.
These bags are designed to break down easier than a standard garbage bag and are seen as being less impactful on the planet.
Is Compostable Or Biodegradable Better?
A compostable bag can break down without causing any harm to soil or organic matter, and they are seen as the friendlier option when it comes to the earth.
However, a biodegradable plastic bag is still the superior choice compared to a standard trash bag as it breaks down easier, but some types do produce harmful gasses in the process.
How Long Do Bio Bags Or Composting Bags Take To Decompose?
The length of time it takes a biodegradable or compostable bag to decompose fully depends on the product, but on average it should be no longer than a year.
The goal is to have them break down with a few months, which is far better than a standard plastic trash bag that can take up to 1,000 years to decompose completely.
The Earth Friendly Way to Carry Waste
We can't all be environmentally conscious all the time, but it's the small changes we make in our day to day lives that add up to something.
If you want your waste to count, and can't commit to living a zero-waste life, choosing a reusable or biodegradable bag is still a commendable act. There are so many ways we can adapt our waste output, and having the right bag to do so is just one of them.
Whether you choose to go with a reusable bag or something compostable that you can throw in your backyard compost heap, you'll be doing your part for the planet in the simplest way possible.
---