[amazon table="3350″]
With most people already aware of the harm that plastic disposable water bottles do, it makes sense that the reusable ones become more consumer-friendly and convenient for people to use.
One of the major changes that have occurred with water bottles that you take along with you is that they're now easier than ever to carry, thanks to their collapsible design.
Collapsible water bottles give you all of the benefits of reusable water bottles, but with the huge bonus of being able to squash down to a tiny size.
This means you can carry them anywhere, they take up minimal space and make it easier to always have one ready for action, preventing you from ever having to buy a water bottle on the go again.
What are the best collapsible water bottles on the market today?
The best collapsible water bottle depends entirely on your preferences, as there are different materials and sizes available. However, a good quality water bottle should be durable, built to last for many years, and come with features that make it easy to drink from and to carry along conveniently with you.
If you've been thinking of upgrading to a more functional water bottle and want to know what the collapsible style has to offer, this guide is for you.
We'll show you our favorite picks for a foldable water bottle and exactly what they're all about, so you can choose your next eco-friendly purchase with only the finest options to consider.
Fold up water bottles have changed the game when it comes to staying hydrated on the move, and they come with so many more benefits than your regular water vessel.
To find one worthy of your daily use and a bottle that's going to tick all of your boxes, and the planet's, we've rounded up the best foldable water bottle options on the market.
Best Collapsible Water Bottle – Reviews & Buying guide for 2020
Best Overall: Nomader Collapsible Water Bottle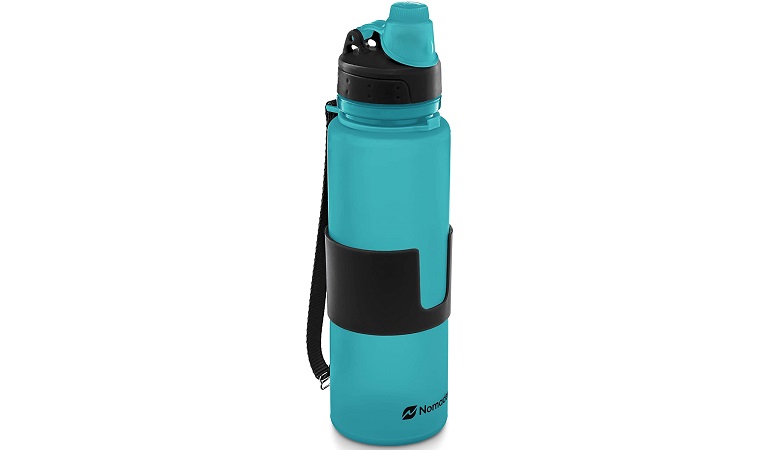 Size: 22oz
Material: Silicone, Food grade materials
Our favorite choice for the best collapsible water bottle comes from Nomader, with their 22oz bottle that's ideal for water on the go and with enough space to keep you hydrated all day.
This decent sized bottle comes in six different colors, so you can choose one to suit your personality and taste, including aqua blue, cool gray, and vibrant blue. Made with a tough silicone body, it's durable enough to last many years, and save you and the planet a lot in the meantime.
This is the best collapsible water bottle for travel thanks to a few features that make it a standout, according to customers who were thrilled with their purchase.
Not only does it collapse neatly down to a small size, but also comes with a wrist loop that makes it easy to carry. If you want to keep it in your bag, the leak-free design helps you do that without a care in the world.
However, it's an expensive option compared to some others on the market and doesn't offer any insulating properties.
If you're hoping to carry along some hot coffee or icy cold water, you won't be able to do so with the Nomader, so for the heightened cost, it might not be a worthwhile pick for some.
The leakproof water bottle uses a patented sealing twist cap which means nothing will get in or out, and you can even store it upside down to prove it.
This twist cap is also the mouth spout, and because it has a special cover on it, you'll get any germs from the outside away and have a much cleaner drinking experience.
Nomader has thought of everything when making this drinking bottle and ensured that all of the materials were free from BPA, PVC, lead, latex, and phthalates, so you don't have to give it a second thought.
You can even wash it in the dishwasher if you need to, and it won't do any damage to you or it, so it's one of the most durable options on the market.
The 100% food-grade materials used to create it won't do you or your family any harm, and you can feel good about your reduced impact on the planet when you ditch the disposable bottles as well.
With a range of colors to choose from and free shipping offered by the online marketplace, it's one of the best deals you'll find for an expandable water bottle that can truly do it all.
Runner Up: Valourgo Collapsible Water Bottle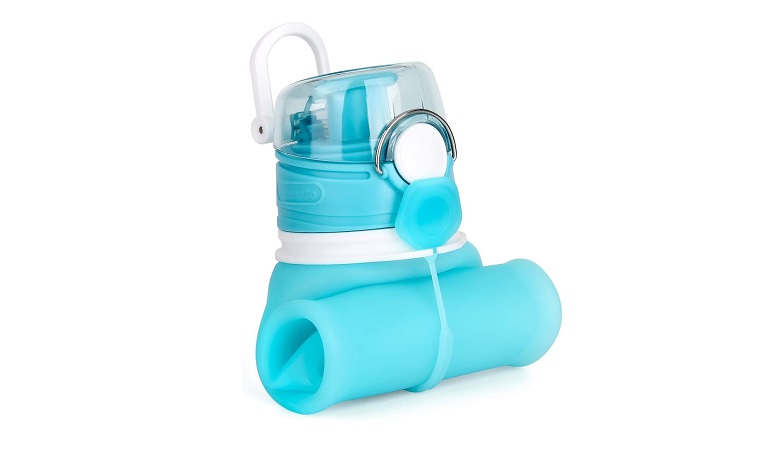 Size: 21oz
Material: Silicone
When you want to do your part for the planet, but don't have a lot of money to contribute, something affordable like the Valourgo Collapsible Water Bottle is best.
This water bottle is made with food-grade liquid platinum silicone which means it's safe to drink out of, completely flexible, and has no problem being thrown into the dishwasher or cleaned out with boiling water.
The best thing about this bottle, besides its low price tag, is the fact that it rolls up so neatly.
When there's no water in it, you'll hardly notice it at all, and it's the perfect camping companion or travel buddy when you're trying to save some space. Although light, its 21oz capacity is still admirable, and the perfect size for an expandable water bottle to hold.
As a cheaper alternative, this isn't the most durable product, and some customers found that the bottle lost its shape after a few months.
Although it doesn't affect your ability to use it or carry it around with you, it does make it a little awkward to drink from. Something more expensive wouldn't have this issue, but if you're shopping for eco-friendly products on a budget, it shouldn't be a big deal.
The Valourgo Collapsible Water Bottle comes in five different colors including pink, gray, and blue. It has a unique leakproof design that is made up of a valve that stops any liquid from getting out, so even if it's stored upside down and shaken around all day in a backpack, not a drop of water will come from it.
The water bottle is free from nasty ingredients so you won't find any BPA around, and Valourgo guarantees that it's odor-free and eco-friendly. It features a wide mouth that's easy to drink from, especially on the go, and a flip-top lid that keeps everything in place.
The Valourgo Collapsible Water Bottle has been designed for all types of uses including taking to the gym or on your next camping adventure, so it's a versatile product that you'll get years of use from.
This is the best silicone water bottle if you're trying to save money and do your part to be environmentally friendly, and the Valourgo Collapsible Water Bottle is good for the planet as well.
You'll end up getting years of use out of it for a low cost, and it's a simple way that you can reduce your footprint on the planet.
Alternative: Mountop Collapsible Water Bottle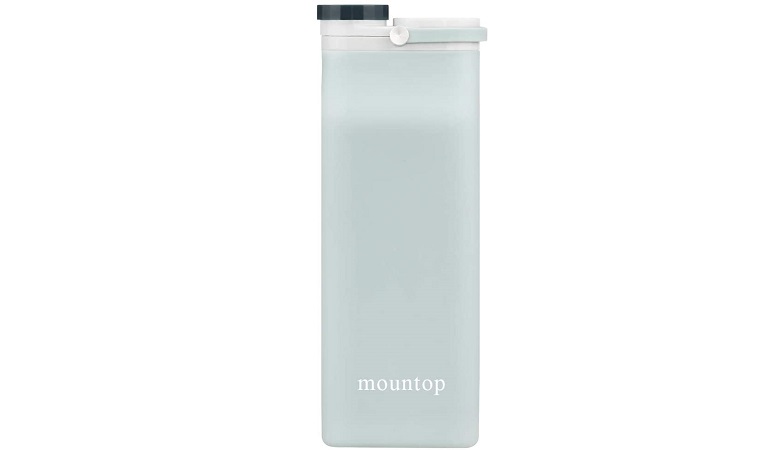 Size: 20oz
Material: Silicone
Mountop has created an affordable and fun way to get your water on the go with their collapsible water bottle, measuring 20oz in size and giving you enough liquids to get through the day.
This silicone water bottle is food grade and safe for both kids and adults to use, so you can get one for every in the family if you choose, and there are a range of fun colors to choose from including pink and yellow.
According to their happy customers, Mountop has created one of the most durable water bottles for this price range, so there's no need to spend a fortune just to get one for yourself.
Considering it's about half the cost of others on the market, it's a good first choice if you want to see what collapsible water bottles have to offer.
What lost this water bottle some points was the awkward way in which you have to drink it.
Some customers reported having to train themselves to drink from it correctly, which is a bit annoying, but once you've gotten the knack nothing is stopping this from being one of the top contenders for collapsible water bottles.
Measuring around 2.55 x 2.55 x 2.65 inches when folded, the Mountop Collapsible Water Bottle is tiny enough to fit just about anywhere you need it to.
Weighing around 0.23lbs, it's also incredibly lightweight and is the perfect size to take traveling or camping. To clean it, you can throw it into the dishwasher or wash it by hand with warm, soapy water, and it's capable of withstanding temperatures of up to 200 degrees. 
Mountop has added a leak-proof and rotatable cap to keep all of the liquid inside without having to worry about spills, but it might not be as airtight as other more expensive brands, so you should still be careful when handling it.
Whether you want to take it to the gym or on a camping trip, you'll be able to save a lot of money from bottled water and do your part in reducing plastic waste from being littered across the planet.
If you want a cheaper silicone water bottle and don't need any fancy features, the Mountop Collapsible Water Bottle is a great choice.
You'll easily save yourself a lot of hassle and money by having your own water vessel like this, and you can feel good about doing your part for the environment as well.
Alternative: Que Bottle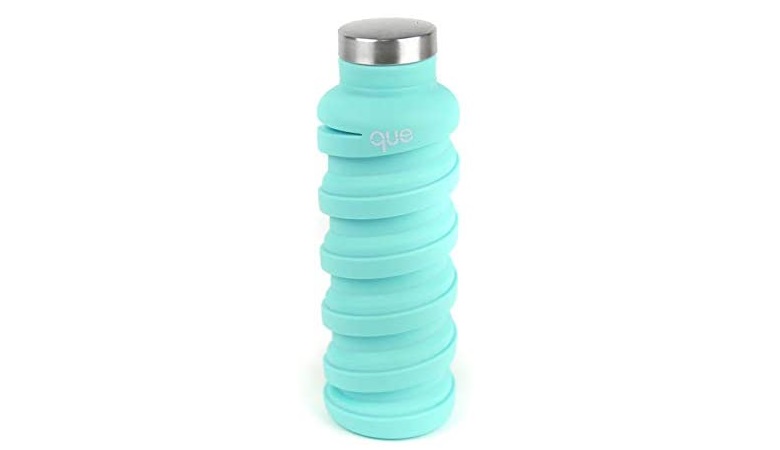 Size: 20oz
Material: Silicone, Stainless Steel
When looks are just as important to you as saving the planet, you'll want the prettiest of all the collapsible water bottle reviews.
The Que Bottle is just that, with a stunning design that collapses down to a cube size for easy portability, and in a beautiful mint green color that goes well with anything.
What customers loved most about the Que Bottle was the wide mouth and unique design. With the grooves built-in on the edges, you'll get a good grip on it when you're drinking, and not only will your mouth be comfortable, but you can easily fit ice cubes inside for an instantly cool and refreshing drink.
On the negative side though, this is an expensive option for a collapsible water bottle, and some customers noted tearing after some time which eventually leads to leaks.
Although they've gone to great effort to make a lid that didn't leak, it would have been good to have a more durable silicone used on the outside of the bottle.
Que Bottle was created by a brand that is serious about reducing plastic consumption and you can feel good choosing to purchase from them if a healthier planet is your goal. This 20oz bottle was designed specifically for travel, so it's compact and lightweight and made with food-grade silicone and stainless steel, so you get two materials working for you instead of just one.
Que has designed all of their bottles to be free from toxic materials and free from plastic and BPA, giving you peace of mind about what you're ingesting in your day to day life.
When it comes to cleaning, you can use up to 500 degrees Fahrenheit without doing it any damage, further proving just how durable it is, and it's dishwasher friendly as well.
Amazon will ship the bottle for free, and there are other colors and sizes available from the brand if you want to expand your collection. This is a beautiful collapsible water bottle for those with the money to invest, but when it comes to longevity, there might be better options out there.
Alternative: TriWonder Folding Water Bottle
Size: 16.9oz
Material: TPU material
If you're someone who uses their water bottle for riding their bike or hiking, and you'd prefer something easier to drink from, the TriWonder Folding Water Bottle is a great investment.
This water bottle measures 16.9oz so it's got enough space for hydration on a day out, and it folds down to a small size to pack away in your backpack or carry right on your person.
According to the happy reviews, this is one of the best portable water bottles around, and also one of the lightest.
Having the straw was a gamechanger and meant it was a collapsible bottle you could use on the go, and being made from a soft food-grade material allowed it to shrink down to a size smaller than most other bottles could go.
However, customers found the way that they drank out of the bottle was a bit awkward, and others found that the water flowed out much too fast.
You'll have to learn to take small sips otherwise it can go everywhere, which does detract from its accessibility somewhat. Unlike other bottles made of silicone, you can't wash it in boiling water and it's not ideal for the dishwasher, so it loses some more points when it comes to convenience. 
Although smaller bottles, the fact that you get two of these makes it an even better deal and means you can take two along for a quick changeover when you need it.
The unique straw design allows you to sip it hands-free, and it's soft and flexible so it'll never cause you discomfort while you're riding or working out with it.
TriWonder guarantees that their bottles are free from PVC and BPA and that there'll be no nasty tastes or odors coming from them.
You can chill the bottle overnight for icy cold water the next day, but hot temperatures are not recommended. There are lots of options for sizes and sets, with the double package of 16.9oz bottles being their most popular.
Unlike other collapsible bottles we've reviewed, TriWonder offers an 18-month warranty, so you're guaranteed that it's going to be the best quality possible for the cheapest price.
The FAQs of Collapsible Water Bottles
A collapsible water bottle gives you a way to enjoy eco-friendly water on the go, without having to lug around a huge, empty bottle when you're done.
Although they're effectively the same type of product, there's a lot to learn about these types of drinking vessels, so we've answered some FAQs to get you started.
How Do Collapsible Water Bottles Work?
The purpose of a collapsible water bottle is to be able to hold your liquids when it's full, but then fold down to a smaller size when it's empty, making for a more convenient and eco-friendly option.
This type of product allows you to carry a water bottle with you at all times, and refill it whenever you need to, without it taking up too much space.
Are Silicone Water Bottles Safe?
Silicone is considered one of the safest options when it comes to a water bottle for human consumption.
This material is free from things like PVC and BPA, which makes it a healthier option, and is also heat resistant so you can clean it, wash it, boil it, and place it in the dishwasher without doing any harm to it.
How Do You Clean A Collapsible Water Bottle?
Some collapsible water bottles come with instructions on how to clean them properly, but in the absence of directions, you can use a simple bottle cleaning brush.
With one of these flexible and soft-bristled brushes, you'll be able to clean the small parts and crevices of the bottle, and then rinse it out with hot water to wash all of the detergents away.
How Often Should I Wash My Water Bottle?
For the healthiest way to drink, you should wash out your water bottle once a day by swirling some clean, fresh water around in it and emptying it.
Once a week, give a more sanitizing clean by using hot water and dishwashing detergent, making sure to focus on all of the parts that can get a build-up of bacteria.
How Long Can You Drink Out Of The Same Water Bottle?
Once your water bottle has been filled up, it's usually safe to continue to drink from for a couple of days, unless the water has already started to taste unusual.
After this time, you should empty it and clean it before you refill it, ensuring healthier and safer water for your consumption.
The Eco-Friendly Way to Hydrate
It's no secret anymore just how damaging plastic disposable water bottles are for the planet. However, if you're looking to take your eco-friendly hydration methods a step further, a collapsible type of drinking vessel might be the way to go.
With our recommendations, you'll not only be doing your part for Mother Earth but also your purse strings, as these water bottles can save you some serious cash.
Whatever your preference and however you like to drink your water, you'll find an eco-friendly way to do it with our top picks for the best collapsible water bottles on the market today.
---