[amazon table="3338″]
Brushing your teeth is something that has to be done every day, at least twice a day, to ensure good health and oral hygiene.
However, not many people realize, that traditional toothbrushes are responsible for a lot of negative impact on the earth, and make up a huge chunk of plastic waste that we produce each year.
According to National Geographic, a billion toothbrushes will be thrown out in the US alone this year, which equates to a whole lot of plastic making its way into landfills and the ocean.
As we can't just stop brushing our teeth for the sake of the earth, we must look for ways to change this habit, and the bamboo toothbrush has provided just that.
What is the best bamboo toothbrush out there and what do they do?
These toothbrushes are constructed with bamboo that leaves less of a footprint on the earth and reduces the amount of plastic we use. To find the best one, you have to look for a product that's durable, affordable and made with environmentally friendly materials and practices, so you can feel better about your choices.
We've reviewed some of the best bamboo toothbrush brands and products on the market, so you can find one that aligns perfectly with your needs.
These natural bamboo toothbrush options will allow you to keep your pearly whites clean while reducing your impact on the planet, which is everything you could hope for as an environmentally friendly crusader.
A simple switch to an eco bamboo toothbrush is a simple way you can help the planet without having to give anything up yourself.
We've compiled a detailed bamboo toothbrush review for each of our top contenders so you can see why these are our favorites, and be able to choose one that suits your needs perfectly.
Best Bamboo Toothbrush – Reviews & Buying guide for 2020
Best Overall: Isshah Charcoal Bamboo Toothbrush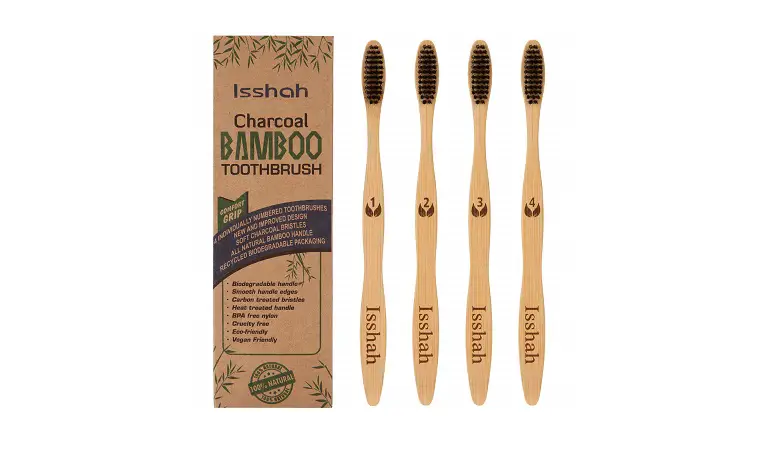 Size: 1.26 x 2.48 x 7.8 inches
Number: 4
Material: Bamboo, Charcoal
When you want what's best for the planet but also your teeth, our pick for the best bamboo charcoal toothbrush is this pack from Isshah.
The Isshah Charcoal Bamboo Toothbrush comes in a packet of four so you can share with the family or save some money buying in bulk, and they're made with smooth and natural bamboo with charcoal coated bristles.
The adult size toothbrush measures around 1.26 x 2.48 x 7.8 inches so it looks and feels like a regular one, but with more benefits for the environment.
The best thing about these toothbrushes from Isshah is the soft charcoal bristles that have an added effect of deep cleaning and absorbing carbon and plaque.
Many customers have noticed how much more comfortable these were to brush with, while still doing an effective job of cleaning. Compared to other harsher bamboo brushes that don't put as much thought into the feel of the bristles, it was a major standout and what made this our favorite pick.
However, the price could put some people off from purchasing these toothbrushes as they're almost double the cost of others we've reviewed, so they're not exactly budget-friendly.
Because of the shorter lifespan of bamboo brushes compared to plastic ones, you want to be careful with these to take care of them and reduce the presence of mold, otherwise, it will be even more expensive.
The Isshah Charcoal Bamboo Toothrbsuh is durable and healthy, and heat-treated to prevent the buildup of mold and grime that occurs with other bamboo toothbrushes. Even the packaging is good for the planet, with 100% recyclable and biodegradable materials being used.
Isshah stands behind their toothbrushes and offers a full refund if you're not happy with the quality of them, but judging by their many happy customers, this won't be an issue. They have options for the types of toothbrushes you can buy as well, with kids sizes and even family packs available.
To benefit from free shipping, you'll need to get a few packets, but it means you won't have to worry about toothbrushes for a couple of years and will save yourself some money in the process.
This is our top pick for a bamboo charcoal toothbrush that cares about not just the planet, but the health of your teeth and gums as well.
Runner Up: Nuduko Bamboo Toothbrush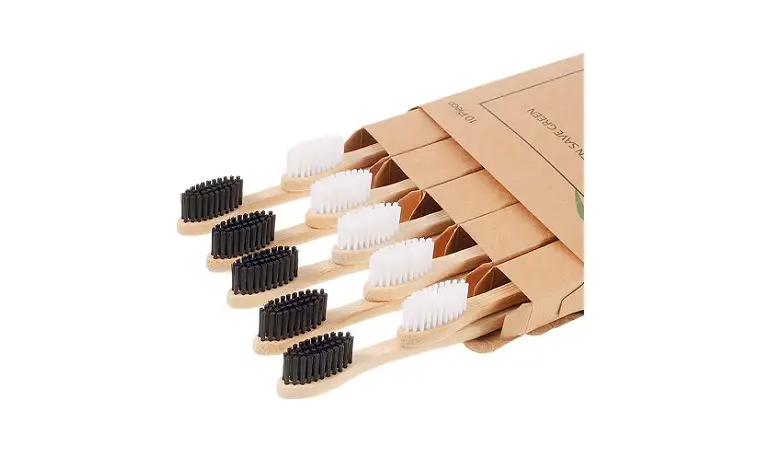 Size: 7.8 x 5.1 x 0.8 inches
Number: 10
Material: Bamboo, Nylon
Nuduko has created its bulk pack of affordable bamboo toothbrushes, giving everyone a chance to do their part for the environment without breaking the bank.
Although they're cheaper, they're still good quality and feature BPA free bristles and a fully biodegradable construction that make them gentle on the planet. There are 10 toothbrushes in each package and with a size that's suitable for all members of the family, even your kids.
According to customers, these were some of the more comfortable bamboo toothbrushes they'd tried and were pleasantly surprised at the fact.
You might assume as a cheaper brand that you could feel a difference with harsh bristles or a handle that's not easy to handle, but these were incredibly smooth and soft, which is especially good if you plan on sharing them with your kids.
As these are a cheaper alternative, they're not designed to last as long as some of our other picks, so you might get around two months of use from them before they start to wear down.
Although they claim you don't have to do anything special to take care of them, we recommend keeping them near natural sunlight and having a good flow of air near the toothbrushes, just to prevent the buildup of mold and so they last longer.
The bristles are made with BPA-free nylon, so they're comfortable on your teeth and still do a thorough job of cleaning them.
Although there's no charcoal to be found, they're good for maintaining oral hygiene and saving the planet, which is what these toothbrushes are all about. Each toothbrush measures 7.8 x 5.1 x 0.8 inches, and they come in kids' sizes if you'd rather something more suitable for their mouths.
Nuduko has promised all of their toothbrushes are fully biodegradable which means you feel good about doing your part, and there's no risk that these will sit in a landfill for years to come like your plastic toothbrush.
You'll get 10 toothbrushes in each pack, and with a few months' use out of each, this should last a couple of years for a really low price.
Alternative: Vegols Natural Bamboo Toothbrush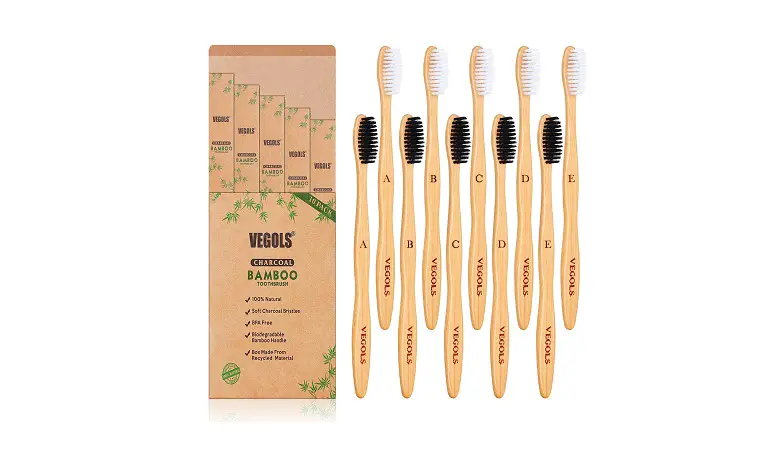 Size: 7.5 x 1.18 x 0.5 inches
Number: 10
Material: Bamboo, Charcoal
Vegols has created a biodegradable bamboo toothbrush that's easy enough for everyone to afford and made with all-natural materials including bamboo and charcoal.
This 10 pack of toothbrushes feature a bamboo handle with mixed charcoal bristles, and they provide a gentle clean of your teeth without creating any hazardous plastic waste.
The best thing about these toothbrushes is the smaller details, with things like a letter identification stamped onto each one so you can tell whose toothbrush is whose, or the mixed color bristles of black and white.
The unique shape of the handle makes it a dream to use, and can even help kids who are just starting with their teeth brushing journey get a better grip on the handle.
However, these are a very soft toothbrush which didn't sit well with some customers, and if you're someone who prefers a medium or hard feeling brush, you won't be impressed either.
The charcoal bristles are quite soft so they'd be better off used for children rather than adults unless you had sensitive teeth or preferred a lighter touch with your cleaning.
The size of each toothbrush is 7.5 x 1.18 x 0.5 inches so they can be used by kids and adults, although might be a little large for smaller children.
With a flat bamboo handle, you'll get a better grip, and it's made with natural bamboo that's fully biodegradable so you don't have to feel bad about your contribution to plastic in the oceans and landfills.
Each toothbrush comes in its own carton, so you can take them away camping or pack them in your suitcase when you're traveling.
The box itself is made from recyclable materials and can be recycled again, so they've thought of everything at Vegols. The toothbrushes are lightweight and medium-sized, taking up virtually no room at all, and should last a couple of months with proper care.
To qualify for free shipping, you'll need to purchase three packets, but it'll save you even more money and make an environmentally and economically sound choice for your household.
Best Travel Bamboo Toothbrush: Greenzla Bamboo Toothbrush Set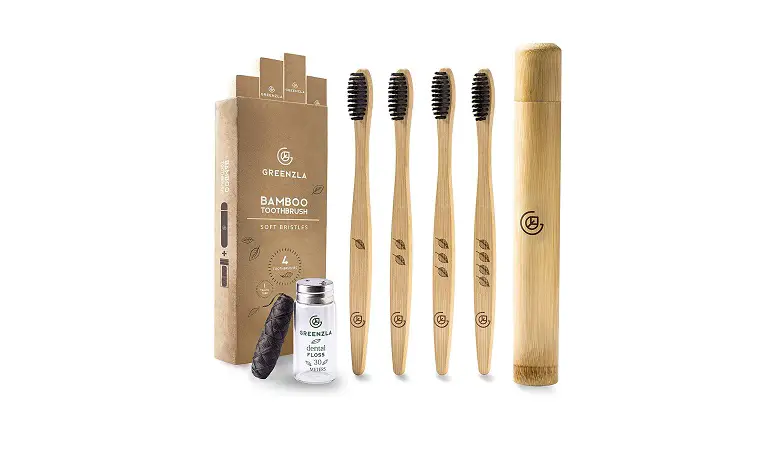 Size: 8.46 x 3.82 x 1.3 inches;
Number: 4
Material: Bamboo, Charcoal
There's no reason you can't still be eco-friendly when you're traveling, and Greenzla makes it easy to do with their charcoal bamboo toothbrush set.
Within each set, you'll get four natural charcoal and bamboo toothbrushes, a bamboo tube holder, and charcoal dental floss. If you have plans to travel or go camping and want something easy to bring along, this set has got it all.
The best thing about the Greenzla Bamboo Toothbrush is that it's made with organic materials that have been responsibly sourced.
This takes the eco-friendly factor one step further than many other toothbrushes out there that just make theirs out of bamboo and call it a day. You can feel good about choosing this brand knowing how much effort they go into to ensure they're responsible and gentle for the planet.
On the downside, some people found the handle too large to grip comfortably, and it meant that kids couldn't use it either.
As a softer toothbrush, it would be nice to get options for something a little harder in the future for those who prefer it, but for now, it's a good choice if you're looking for something fuss-free to travel with that's still eco-friendly.
As well as the four bamboo brushes, you'll get the charcoal and mint-infused bamboo fiber floss, so you can take your oral health care to the next level.
The Greenzla bamboo toothbrushes are BPA free and made in an FDA registered facility, ensuring the highest level of care and craftsmanship in every one.
Included with the toothbrushes and floss is a sustainable bamboo case, so you can travel easily with it wherever you go.
The size of each brush is 8.46 x 3.82 x 1.3 inches which makes them one of the bigger bamboo toothbrushes that we've seen, and probably not ideal for children to use. However, Greenzla does make sizes for kids if you want to get them in on the action and start teaching them about doing their part for the planet.
Greenzla offers free refunds when you shop on Amazon, so if you don't love their toothbrushes you can return them, which gives great peace of mind when you're shopping for a new bamboo brush.
Best Kids Bamboo Toothbrush: Greenzla Kids Charcoal Bamboo Toothbrush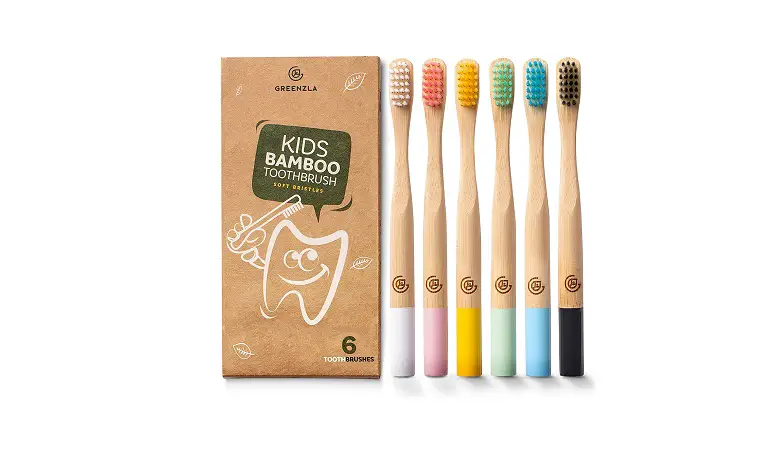 Size: 6.14 x 5.16 x 0.67 inches
Number: 6
Material: Bamboo, Charcoal
There's never been a better time to get your kids into an eco-friendly way of living, and when you couple it with teaching them about caring for their teeth, even better.
Our choice for the best kids' bamboo toothbrush has to be the six-pack from Greenzla, made of all-natural ingredients including bamboo and charcoal. Coming in a packet of six toothbrushes, they're one of the more expensive choices out there, but also some of the most comfortable and softest for kids.
What customers loved most about these toothbrushes was their strength, which can be especially helpful with younger kids who don't know the right way to brush.
The bristles were soft but the handle was hard and strong, so they can be as rough as they want with it and not do any damage. The design of the brush itself means they fit perfectly into little hands, and you can let your kids brush by themselves which further builds their confidence.
However, for an expensive product, it was disappointing to find that there was an overwhelming taste of charcoal on the first few brushes.
While this might not be a big deal for adults, if you're trying to get your children excited about brushing their teeth, this could be a major turn off for them.
Greenzla has created these toothbrushes with colorful bristles and colorful handles, so they're fun for kids to use and also easy for them to identify their own.
With quality manufacturing, the brand has ensured that these can last for up to 12 months, depending on how vigorously your children brush. So, although they're a costlier option, they're also built to last, which makes them perfect for kids.
This brand prides itself on creating zero waste products, so you can feel good about buying them for your home.
The toothbrushes are small in size to suit little hands and measure 6.14 x 5.16 x 0.67 inches. Greenzla also offers a 100% money-back guarantee if you or your kids aren't thrilled with them.
If you buy more than one, you'll get a further 10% off the total, and also save with free shopping when you spend over $35 on the online store. This is the easiest and most fun way to ensure your kids take care of their teeth and the planet, with Greenzla being our favorite choice.
Bamboo Toothbrush FAQs
Bamboo toothbrushes might seem like a foreign idea if you've never used one before, but they can be just as good as a regular toothbrush, or even better.
If you feel in the dark about these eco-friendly tools for oral hygiene, we've answered some FAQs that can help shed some light on them.
Are Bamboo Toothbrushes Better For The Environment?
When compared to a traditional plastic toothbrush, the bamboo alternative is a lot better for the environment and a great way to keep your oral health up.
This is because bamboo is known as a renewable and sustainable resource, as well as breaking down easier thanks to its biodegradable status, so all round it's a smarter choice.
Are Charcoal Bristles Good For Your Teeth?
Charcoal has become a popular material used in eco-friendly products, and especially when it comes to oral health.
Charcoal that has been built into toothbrush bristles can help bind bacteria together and absorb them, as well as absorbing carbon, so if they're made with the right quality, they can do a better job than standard bristles when it comes to cleaning your teeth.
How Long Do Bamboo Toothbrushes Last?
A toothbrush can last longer when it's properly cared for, and the same goes for a bamboo variety.
These toothbrushes can last around three months with the right care, provided there's no obvious damage or wear to the bristles, and a mold problem hasn't begun with the handle.
Do Bamboo Toothbrushes Get Moldy?
Due to the moisture occurring when you brush your teeth and bamboo's natural state as a type of wood, there is the potential for these toothbrushes to get moldy.
This is why you're required to take a different level of care for them to prevent moisture, ensuring they get access to sunlight and dry conditions, so they're less likely to develop mold.
How Do You Clean A Bamboo Toothbrush?
To keep your bamboo toothbrush clean and in good working order, there are a few things you can do.
First, never brush your teeth too hard with it, and second, make sure it's been rinsed off and left somewhere that it can dry out each day. Once the toothbrush has started to develop mold or looks dirty, you can dispose of it correctly and open a new one.
Cleaning Your Teeth the Earth-Friendly Way
Brushing your teeth might not seem like something harmful to the planet, but when you consider just how much plastic ends up in the ocean and landfills each year from these items, you'll see why a bamboo toothbrush is so important.
Thankfully, we've found some great options that tick all of the boxes for you and the planet.
The key to finding a great bamboo toothbrush is choosing one that doesn't take anything away from oral hygiene or make your life harder, and that's what our favorite finds have done.
With this one simple switch, you'll be making the earth happy and keeping up with the good, healthy practices that your teeth are thankful for, ensuring the best of both worlds.
---