[amazon table="3768″]
We do everything we can to ensure our family is taken care of, from the healthy foods we prepare them to the comfortable and safe conditions they live in
One area that's often overlooked, though, is the quality of the air we breathe inside the home, and when it's not at its cleanest, it can lead to a range of health and comfort issues.
The daily air that we breathe is full of pollutants, allergens, and toxic materials, and the average household lives with them inside of their homes for most of their lives without knowing any better.
Using a home air quality monitor is one easy way to can keep track of the air your family is breathing to improve health and comfort, preventing conditions like Sick Building Syndrome.
What is the best air quality monitor for your home, then?
An indoor air quality monitor should be easy to use, able to detect a range of issues, and suitable for the size of your home. These monitors will be able to give you up-to-date information about the quality of the air you're breathing and allow you to make changes as needed.
We've selected some of the best air quality monitor options on the market today and a little about what they can offer your home.
Living green and clean isn't just about taking care of the planet but your family as well, and ensuring they're breathing the cleanest and freshest air free from contamination is a great way to achieve it.
Choosing the best home air quality monitor is no easy feat, with so many options all promising to be the latest and greatest. To help narrow your search, we've rounded up some of the top performers to deliver you our indoor air quality monitor reviews, and the favorites that are worthy of adding to your home.
Best Air Quality Monitor – Reviews & Buying guide for 2020
Best Overall: Airthings Wave Plus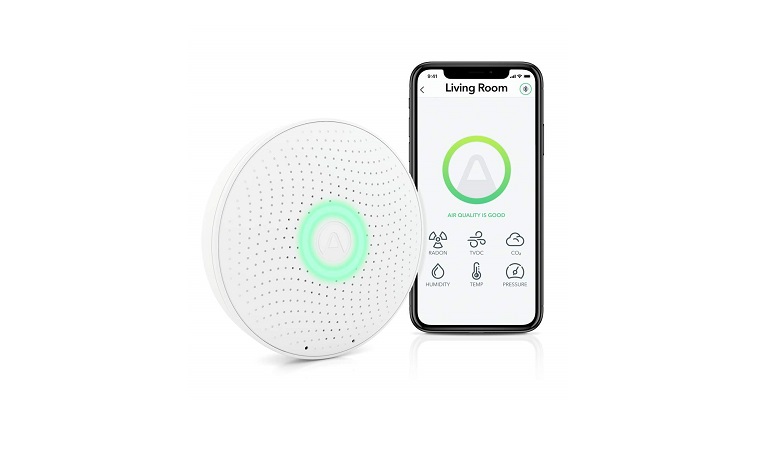 Type: Radon, CO2, VOCs
Power: Battery
Our choice for the best portable air quality monitor is the Airthings Wave Plus, with an award winning reputation and loads of happy customers.
The Airthings Wave Plus is a smart indoor air quality monitor that specializes in radon detection, among many others, and gives you continuous updates on conditions so that you're always in the know about the health and comfort of your home.
What customers love most about this air quality monitor is its ease of use, and it's also what helped it win so many awards.
The Airthings Wave Plus runs continuously in the background without you needing to do a thing, and you simply wave your hand in front of it to get an update on the quality of air in the home. You'll never need to give a second thought to air conditions and whether or not your family is living in the cleanest space possible.
On the negative side of things, some people found the radon detection to be its lowest accuracy compared to other readings. While it can let you know about the presence of radon, if you're looking for this specifically, it may be better to get a standalone detector that doesn't come with other capabilities.
As well as monitoring the air for signs of radon, VOCs, and CO2, the Airthings Wave Plus gives you updates on other toxins, chemicals, humidity, air pressure, and temperature, so you have a clear picture of the air quality and conditions inside your home.
It partners up with your existing smart home system to work seamlessly with your everyday life and make healthy living more convenient.
The Airthings Wave Plus generates a radon report via the dashboard and allows you to look at six indoor factors that can affect air. You'll get an easy to read rating of either green, yellow, or red, with detailed insights into the air quality.
The Wave Plus comes with two AA batteries, a guide, and ongoing customer support, giving you everything you need.
If you want the best of the best when it comes to healthy living at home, the Wave Plus from Airthings is our favorite pick for a portable air quality monitor.
For the complete package in air quality at home, the Airthings Wave Plus has it all.
Runner Up: uHoo Indoor Air Quality Sensor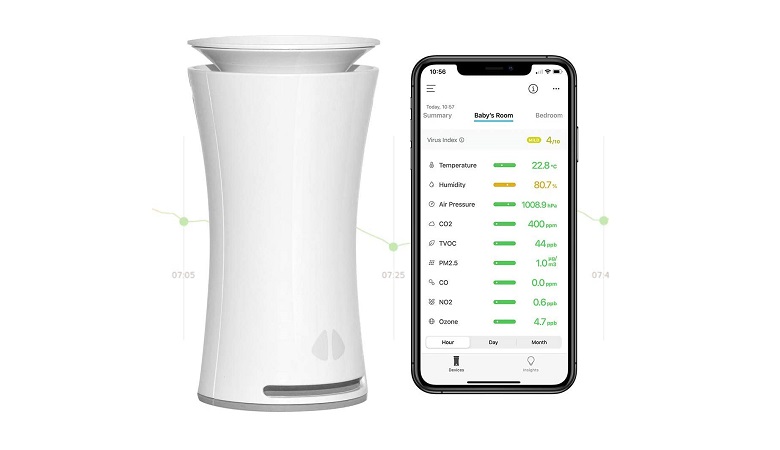 Type: CO2, Nitrogen dioxide, dust
Power: Electric
If you want comprehensive monitoring of your home's air quality and don't mind paying a premium price, the uHoo Indoor Air Quality Sensor is one of our favorites.
This is the best air quality pollution monitor for people who suffer from asthma and allergies and is capable of picking up traces of everything include nitrogen dioxide, dust, and toxins, as well as provide readings on temperatures, air pressure, and humidity.
According to customers, they loved the app that came with the uHoo Indoor Air Quality Sensor and how much information it delivered. Compared to others that were hard to read or only gave minimal data, the uHoo is a serious contender.
If you're someone who likes the finer details and you want many different sensors giving you up to date readings at home and suggestions on how to fix them, you'll love just how in-depth the smartphone app can get.
As a corded electric model, it's not a portable air quality monitor, so you should only install it where you're sure it will stay.
The absence of radon detection for a model at this price is also disappointing to find, and something to consider if you're hoping to choose an air quality monitor that's capable of assessing more than just the standard toxins.
The uHoo Indoor Air Quality Sensor measures 3.4 x 3.4 x 6.5 inches so it's pretty small for everything it can do, but you should expect some time spent on installation.
The device plugs in out of the box to your WiFi network and uses nine different sensors to read and deliver updates on what's happening in your home, but some users mentioned needing an hour or two to get it working right.
The uHoo Indoor Air Quality Sensor works with other smart devices like Google Assistant and Nest, so you get a comprehensive device that flows seamlessly with the rest of your home and family's needs.
The smartphone app runs on either Android or iOS, and the whole family can stay connected to it for up to date information. You'll get room to room information, data insights, and personalized tips that work for your home, making it easy to improve your home's air quality.
To get your hands on the uHoo Indoor Air Quality Sensor, head to Amazon for the lowest price online. It includes a one-year limited warranty from uHoo and ongoing customer support.
Although expensive, this device delivers in-depth readings and high accuracy, helping you achieve the healthiest conditions possible at home.
Alternative: Yvelines Air Quality Monitor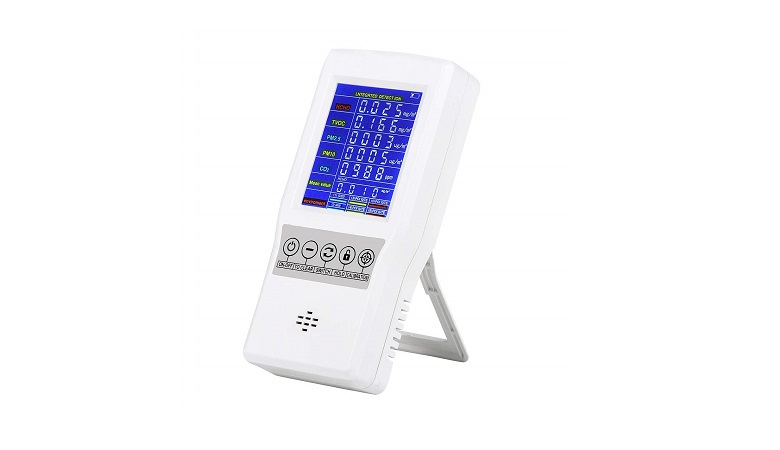 Type: VOC, CO2, HCHO, particle matter
Power: Battery
When you're hoping to improve your home's health and comfort but have to do so on a budget, the Yvelines Air Quality Monitor is an affordable choice.
This basic air quality monitor uses DARY electrochemical sensors that provide readings on volatile organic compounds, particle matter, formaldehyde, and carbon dioxide, giving you a range of options for ensuring your home has quality air.
The Yvelines Air Quality Monitor is the perfect size for people wanting a portable solution, and customers loved how easy it was to set up and take wherever they need to go.
With such a small size and a rechargeable battery, there's no need to stick it on the wall or use electricity, so you can test the air anywhere and any time. If you don't need ongoing readings and sensors, the size will be perfect for portability.
On the downside, it wasn't the most effective at getting readings quickly, which isn't surprising given its price and size. To get a true test of the indoor air, Yvelines recommends closing all household doors and windows for at least an hour, which is a minor inconvenience.
Unlike others that are always running, this is better suited to spot testing the home, so it's turned on once a day to check the house and then turned off to save the battery.
This indoor air monitor from Yvelines measures around 5.83 x 2.76 x 1.18 inches so it's nice and compact, and the rechargeable lithium battery lets you use it anywhere you want.
Just one charge of the battery lasts up to 12 hours of continuous use, and if you're testing just once a day you won't have to charge it all that often. When there's an issue, it will sound an alarm, so you know what actions are required next to keep your home healthy and comfortable.
The Yvelines Air Quality Monitor is ideal for homes with a small budget who still want to keep a check on their indoor air health.
It's one of the cheapest and most effective ways to guarantee your family's wellbeing. Although there's no word of a warranty, Yvelines offers ongoing customer support, so this is a model you can feel good about purchasing.
Alternative: Dylos DC1100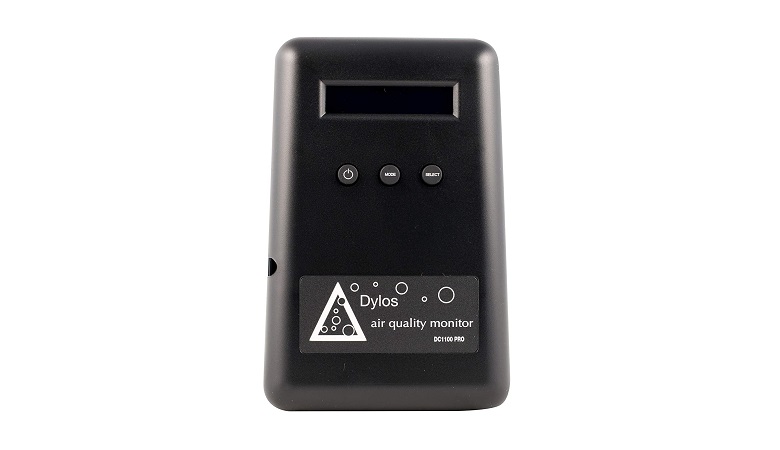 Type: Particle counter
Power: Electric
When you're more interested in keeping track of particles rather than gases and other airborne chemicals, something like the DC1100 from Dylos might be best.
This is a simple and straightforward air quality monitor that uses a laser to do its work, with an LCD screen of just 2.5 inches in size, and overall dimensions of 7 x 4.5 x 3 inches, making it one of the larger models.
The coolest thing about this particle collector is that you can adjust the size of particles it detects, giving you a greater range of air quality monitoring at home.
It can scan large particles from 2.5 microns and above, and the smallest variety down to 0.5 microns. You'll feel absolute peace of mind that you're getting everything in your home's air and making it as clean as possible.
However, customers found the user interface pretty basic and didn't like the lack of information it displayed or how hard it was to read.
Unlike others that can be linked to your smartphone and come with a range of features and settings, the DC1100 is pretty lowkey. If you prefer a user-friendly experience and like something your whole family can use, this isn't the air quality monitor for you.
The DC1100 Pro has a lower sensitivity than other air quality monitors which makes it a smart choice for your home, and it weighs just 2.5lbs.
You'll be able to detect smaller particles like mold and bacteria, as well as larger ones including pollen, so if you have someone in the home with allergies or sensitivities, this is the best way to take care of them.
Operating with a corded electric setup, you'll need to spend some time on installation making sure you get it right and don't have the option for portability.
However, you will be able to read everything with the dynamic bar graph and see up to 30 days of your household's air quality history to see if the changes you're implementing are making a difference.
If you want a greater range of laser particle detection and don't need the user-friendliness it's missing, you'll love it. Amazon also ships for free and offers free returns should there be any problems, so it's an easy way to invest in an indoor air quality monitor for home.
Alternative: Awair Glow C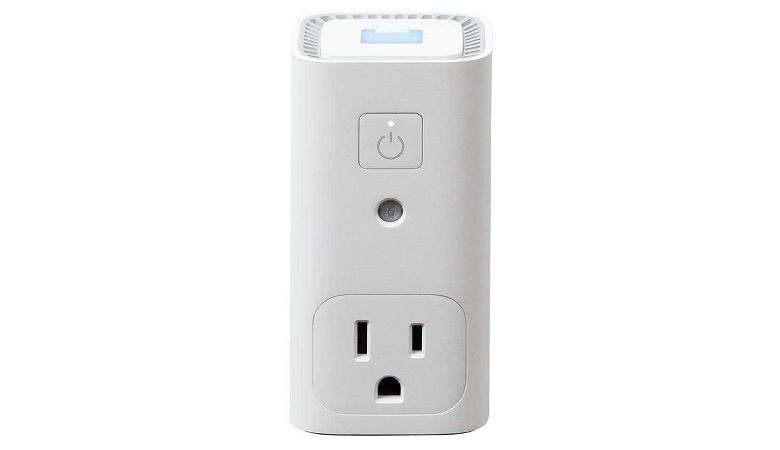 Type: VOCs, humidity, temperature
Power: Electric
For a basic air quality monitor that can help you feel better about your surroundings, the Awair Glow C is a great choice.
This simple model plugs straight into the wall socket to deliver up to date information on airborne toxic chemicals, temperature, and humidity, giving you a basic rundown of the quality of the air you're breathing.
According to customers, the simplicity of this air quality monitor is what makes it such a popular product. For those who've never used an air monitor before and don't know how to operate them, the Glow C is a user-friendly approach.
There's no complex data to understand, it has a night light, and syncs with your smartphone, making it one of the easiest to command and use.
On the negative side of things, the lack of what it can track can be a turn off for some. The Glow C can show you readings on VOCs predominantly, and also some information on temperature and humidity at home, but other than that there's nothing else you'll be able to track.
If you want to know about radon, mold, and other particles in the home's air, you'll have to spend a lot more for an upgrade.
The Awair Glow C comes with its own specialized app to make it easy to use, and can give you real-time feedback on your home's air quality as well as easily actionable tips to improve it.
You'll be able to customize the color of the unit with hundreds of light choices, so it can fit in with the style and look of your home and deliver air readings in a fun way.
This small air quality monitor measures 2.66 x 1.84 x 3.69 inches and weighs just 10oz, so once you clip it into the wall socket, you'll never notice it again.
The Awair Glow C unit can be controlled by multiple devices including smartphones, laptops, and smart home hubs, and linked to actions like air purifiers and humidifiers whenever it needs them.
If you want a small and user-friendly way to keep your home's air clean, the Awair Glow C is one most affordable ways to get it. Awair offers a one-year limited warranty as well. For a straightforward air quality monitor full of perks and fun, the Glow C is one of the coolest on the market.
Air Quality Monitor FAQs
Equipping your home with an indoor air quality monitor can deliver peace of mind that your family is living in the best comfort and health possible. However, there's a lot to learn about these relatively new inventions, and many questions to answer.
We've got some FAQs on air quality monitors to help you understand them better and see if your home could benefit from this clean-living device.
What Is A Good Air Quality Reading?
Air Quality Index is the rating used to determine how healthy the air inside of a home or building is.
An AQI below 100 is the recommended range, with homes holding an AQI over 100 are considered unhealthy, especially for those with sensitivities to pollutants and allergies.
Can Air Quality Monitors Detect Mold?
An air quality monitor must have particle detection in it to be able to detect mold, which isn't found on most common models.
Otherwise, these devices are more beneficial for picking up traces of things like volatile organic compounds (VOCs) or CO2. If you suspect a mold problem at home, having an expert perform an in-depth inspection of your home to then treat it accordingly.
Can Poor Air Quality Make You Sick?
Poor indoor air quality in the home can lead to many physical side effects, which is why improving it is so essential.
Headaches, dizziness, congestion, nausea, fatigue, and eye irritation are just some of the symptoms you might experience if the air in your home is less than ideal.
What Are The Symptoms Of Sick House Syndrome?
Sick house syndrome or sick building syndrome is a general term used to describe the health condition of an occupant of a home that has poor air quality.
The health symptoms related to this illness can include difficulty concentrating, dizziness, fatigue, eye, nose, and throat irritation, and dry or irritated skin.
Should I Use An Air Quality Monitor If I Have An Old House?
Older homes can benefit especially from using an air quality monitor, as these homes might be harboring harmful components like mold or asbestos.
If you have an older home and are concerned about the quality of indoor air you're breathing, using an indoor air monitor can give you some insight into its standing, just as they can be beneficial for newer homes as well.
Healthy Air for a Healthy Home
The air we breathe has a huge impact on how comfortably and healthily we live our lives but it's an area that most of us neglect because it's too hard to see.
The average home is harboring many unknown pollutants and allergens in the air, and these invisible offenders can go by unnoticed without a good air quality monitor, causing SBS and other conditions.
With our recommendations and helpful advice, you'll be able to pick the best indoor air quality monitor to keep your family happy and healthy, and in a way, you never knew possible.
A simple addition of one of these devices can have major benefits for your home, and ensure the air that you breathe is always as clean and wholesome as possible.
---